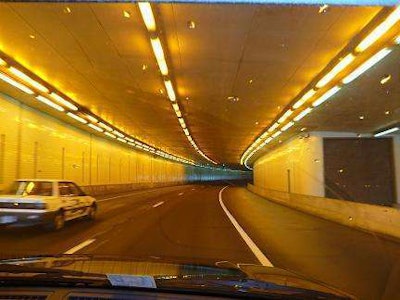 The U.S. Department of Transportation's Federal Highway Administration has created a new tunnel inspection program modeled after the decades old bridge inspection program.
According to a release from the FHWA, the new National Tunnel Inspection Standards would create requirements such as routine inspections of tunnels on public roads, training and certificate programs for tunnel inspectors and timely repairs to any problems found in tunnels during inspections.
The new standards can be read in their entirety here.
"This important step to keep our nation's tunnels safe for the traveling public is unprecedented," Transportation Secretary Anthony Foxx said. "Establishing national standards will help us maintain a high level of quality and uniformity in tunnel inspections nationwide."
The FHWA had inspection guidance for tunnels in the past but the state DOTs and other agencies that maintain tunnels weren't required to actually inspect the tunnels. With the new tunnel standards, inspections would be required, as would annual reports to the FHWA with the inspection findings.
This new program, similar to the National Bridge Inspection Standards, would also help create a new tunnel database like the National Bridge Inventory.
"Just like bridges, each tunnel is structurally unique and requires dedicated attention and uniform measurement standards," Federal Highway Administrator Gregory Nadeau said. "The new Standards will ensure inspections are consistent and focused to help ensure the public's safety."