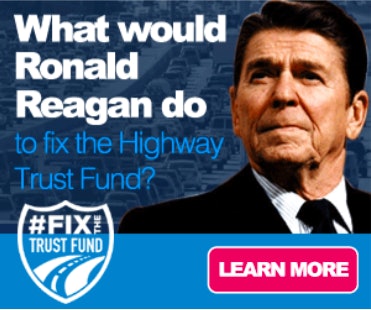 Members of the Transportation Construction Commission (TCC) continue their promotional efforts to urge Congress to fix the Highway Trust Fund with their latest ad campaign evoking President Ronald Reagan's philosophy on transportation infrastructure.
The group, co-chaired by the American Road and Transportation Builders Association and the Associated General Contractors of America, is running a series of television, print, radio and digital ads.
One version of the latter ad type features an image of Reagan and text reading "What would Ronald Reagan do to fix the Highway Trust Fund?" followed by a link to "Learn More."
In a release about the campaign, the sponsoring groups said that Reagan "got it right" about transportation infrastructure being less expensive to keep "in good repair than to let it crumble and have to rebuild." They also added that Reagan believed "assessing a fee on the people who benefit from a public service is 'good tax policy' to pay for that service," referencing a 1982 radio address he made about the gasoline tax being a "principle" to follow in "restoring" the nation's highways.
The television spot, clocking in at 60 seconds and running on Fox News and CNN Inside Washington this week, is sponsored by the TCC and the American Public Transportation Association. It consists primarily of a portion of that radio address. The ad can be viewed below.
Full-age print ads are appearing in "Capitol Hill publications" this week. "The ads call for an increase in the federal gas ta and note that nearly 90 percent of Republican and Democratic state legislators who voted to increase their state's gas tax or equivalent during the last election cycle to fund transportation improvements were re-elected," the groups said in their release. This references an analysis made by ARTBA back in May.