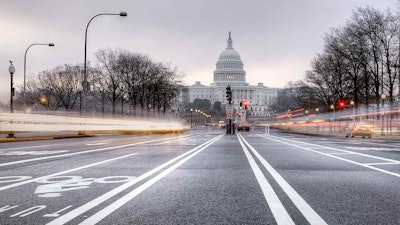 Members of the House Ways and Means committee agreed in their Wednesday hearing on long-term Highway Trust Fund (HTF) financing hearing that action and solutions are needed as soon as possible, but diverged in their thoughts on the methods of providing that funding.
In his opening remarks, committee chairman Paul Ryan (R-Wisconsin) reiterated the need for funding permanence, but impressed that raising the gas tax should be off the table.
"So I want to make very clear: I'm against raising the gas tax," Ryan said. "There's not much happening in this economy to help it grow, but lower gas prices is one of them. Working families have been struggling for years to get by…it would be downright unfair to take that away from them. So we are not raising gas taxes—plain and simple."
Ranking committee member Sandy Levin (D-Michigan) said in his opening statement what was most needed was action. "A long-term infrastructure bill must be a product of us coming together. All options should be on the table except for doing nothing."
Testifying before the committee were American Trucking Associations President and CEO Bill Graves, Robert Poole, director of transportation policy at the Reason Foundation, and Chad Shirley, deputy assistant director of the Microeconomic Studies team and the Congressional Budget Office.
Graves is in favor of a gas tax increase, saying that it's a funding solution that had been working in the past as long as it was increase as needed.
"An increase in the fuel tax, with indexing, can meet current and future highway investment needs," he said. "While the trucking industry already makes a substantial contribution to the Highway Trust Fund, clearly federal investment is falling short, and we are therefore willing to support an even greater commitment. We know the fuel tax works…it would continue to be viable for years if the rate were raised. It's hard—I still believe the fuel tax is the lesser of all funding evils."
Poole highlighted a number of potential ways of improving HTF financing, including transitioning from gas taxes to user fees and developing more public-private partnerships, but stressed that much of the funding problem was internal. He stated that regulatory streamlining is key. "If the barriers (regulatory) are not there, we do a tremendous amount of speeding things up," he said. When asked about the portion of the HTF actually going to highways and bridges, he stated that roughly half of the $50 billion yearly amount was going toward those efforts.
Bill Pascrell (D-New Jersey) expressed his frustration with not addressing the figurative "elephant" in the room. "Why are we afraid to touch the live wire," he said, referring to the gas tax. "Why are we afraid to do this when it must be done? I don't sense a sense of urgency about funding transportation." He also expressed his worry about "a movement afoot for devolution," referencing making states take care of Interstates.
He asked Graves, a former governor of Kansas, what he thought of this concept.
"Devolution is a huge mistake and states aren't ready for it," he responded curtly.
Earl Blumenauer (D-Oregon), who introduced HR 680 earlier this year, an act that would phase in a five cent per gallon tax increase per year for the next three years on both gas and diesel, also impressed upon hearing attendees the importance of moving along on long-term funding.
"The American public is now paying the price (for underfunded infrastructure)," he said. "Six Republican states have raised gas taxes this year. We could raise it. It's known and easy to do. We could come back in July (after the Independence Day break), finish hearings, get a bill out and get it done. It's all about will, and it's not complex."
During his hearing time, Blumenauer submitted testimony from the American Road & Transportation Builders Association in support of fuel tax increase.
"Increasing or creating new highway user fees is the most equitable, transparent, and effective approach to address the nation's growing surface transportation infrastructure challenges," the association testimony read.