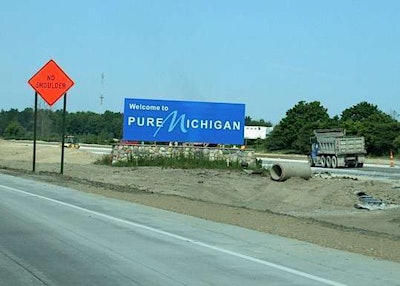 The Michigan Department of Transportation is thinking into the future for an upcoming project to expand Interstate 94 through Detroit.
Construction on the project isn't expected to be finished for another 21 years—2036. But considering the project has been in consideration since 1994, the I-94 project will be 42 years in the making by the time construction wraps up.
Such a time-consuming project doesn't run cheap for the state—or the federal government—Crain's Detroit Business reported.
The project is expected to cost $3 billion, much of which will be funded through the basic annual federal transportation funding rather than asking the U.S. Congress for a project-specific grant. The federal government will pay for 81.5 percent of the total cost.
The work is set to repair and expand a 6.7-mile stretch of the interstate from the I-94 and I-96 interchange to just east of Conner Avenue. The project will also set out to repair or replace 67 bridges and railroad passes.
"It's beyond its service life," MODT communications specialist Rob Morosi said of the 6.7-mile span.
Ten of the bridges in that stretch were initially built in the 1950s and are considered to be in poor or critical condition. The worst of the bridges will be the first under construction next year.
The massive project could affect 300 parcels of land, including 16 homes and 18 businesses, but MDOT said it is working to prevent such a large footprint.
"The last thing we want to do is cut a swath through Detroit," Morosi said.