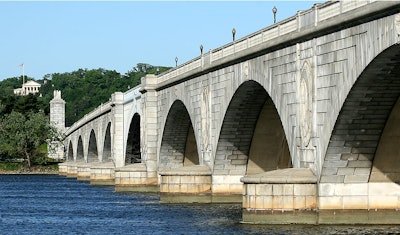 Emergency repairs on Arlington Memorial Bridge are costing $3 million, but that's nothing compared to what it would cost to restore the bridge back its glory days.
The Washington, D.C., bridge is so plagued with rust and broken concrete among other problems that it would cost upwards of $250 million to permanently fix, CBS Washington reported.
U.S. Secretary of Transportation Anthony Foxx said in a release the 83-year-old bridge that once represented the strength of America now is a symbol for the country's failing infrastructure.
"Now, instead of a bridge symbolizing national unity, the Arlington Memorial Bridge symbolizes a different national trend: For 6 years now, Congress has been patching together our transportation and putting off the real repairs and improvements our nation's roads and bridges so badly need," Foxx said in a release after visiting the bridge June 1. "Thirty-three short-term actions, zero long-term solutions."
The current repairs on the bridge have limited traffic to two lanes as work is undergone, but the repairs aren't enough to totally renovate the aging bridge that sees 68,000 commuters each day. And it's not an anomaly in the nation's capitol: There are 14 bridges in the city rated as "structurally deficient."
Foxx said the state of bridges in Washington shows the need for a long-term transportation bill, instead of the patches like the one just signed into law by President Barack Obama.