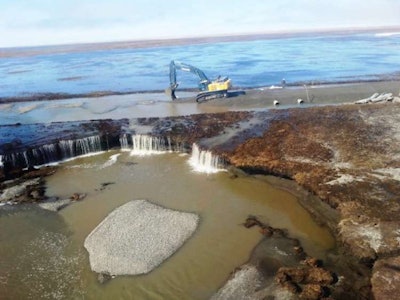 The Federal Highway Administration (FHWA) has made $2 million in Emergency Relief Funds available to repairs to the flood-ravage Dalton Highway, which is the only road between the North Slope oil fields and Fairbanks, Alaska. An estimated range of 160 to 250 trucks travel on the route daily.
While a significant portion of the highway (roughly 78 miles) has been closed due to flooding when the Sag River overflowed in March, the Alaska Department of Transportation and Public Facilities (ADOT&PF) has set June 5 as a tentative date for reopening. Several feet of ice covered the route until just recently when air temperatures increase enough for the ice to melt.
"The Dalton Highway is important to transport freight, and Alaska's economy relies on this vital link," said Acting FHWA Administrator Gregory Nadeau. "These emergency relief funds will help restore the road, and protect the state's economy." The total damage to the highway is estimated at $7 million.
ADOT&PF said work is progressing, but caution is still needed due to the quality of the road surface and narrow passes.
"The department aims to have a road width of at least 20 feet through the project zone, but there will likely be sections of road that will be one lane with delineators or yield signs," ADOT&PF said in a statement. "This is to allow traffic to the North Slope to resume as soon as possible."
The department added that repairs are moving along on the north and south ends of the flood zone between Mile 335 and 413. As of May 29, crews had made it to Mile 397 and were installing culverts that day. At the north end, crews were repairing a culvert pipe and a breach between Mile 412 and 413.