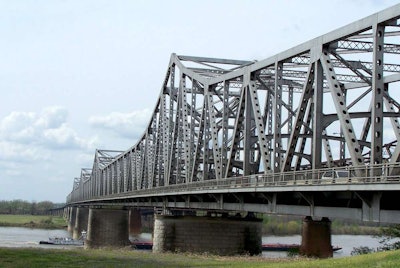 About 56,000 daily vehicles will have to find a new route over the Mississippi River near Memphis for most of 2017.
The Memphis Commercial Appeal reported the Memphis and Arkansas Bridge will be closed for nine months in 2017 as construction begins to build a new interchange at Interstate 55 and Crump Boulevard.
The closure announcement May 27 came after local planners declared that closing the bridge could result in a "real disaster." But Tennessee Department of Transportation officials said there was no other way to complete the construction.
"There is simply not enough space to rebuild this interchange, preserve the French Fort neighborhood, and maintain traffic across the I-55 bridge," TDOT Commissioner John Schroer said. "As we prepare for a full closure of this section of interstate, TDOT will do everything possible to minimize the impacts to residents, business owners, commuters, and emergency services."
West Memphis officials like Eddie Brawley, transportation study director for a local planning organization, still have hop they'll be able to convince TDOT that there needs to be another option. The local public will have a chance to voice concerns as well at public meetings held June 1 and June 4.
"We feel like it would be a real disaster over here," Brawley said. "… There are going to be times when people are not going to get across."
The closing is scheduled to begin in spring of 2017 as the $35 million project gets underway.