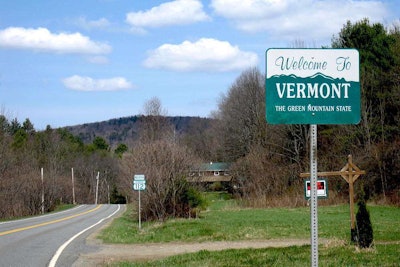 Just as the federal government patches the national transportation fund, Vermont's governor signed into law a bill to send hundreds of millions to transportation funding.
The Vermont Business Journal reported Gov. Peter Shumlin had the backdrop of a new bridge under construction as he signed into law the $616 million 2016 Transportation Bill.
"With Federal support always in question, we must work smarter and make every dollar count, and that's what this budget does," Shumlin said. "We're paving more roads, replacing more bridges, and we're innovating to get it done more quickly. We're also investing in downtowns to help grow business and in transportation choices to help Vermonters take the bus, walk, and bike."
The funding will send $116 million for construction or maintenance on 70 bridges and large culverts. $100 million will go towards improving 200 miles of state highway. Another $100 million is set to go towards town highway programs and highway bridges. $87 million goes towards regular road maintenance projects, and $43.4 million will fund roadway repair work and reconstruction.
The remaining $169 million will go towards rail, public transit, aviation, highway safety operations, bicycle and pedestrian facilities, transportation alternatives, park-and-ride facilities, rest areas and transportation building facilities.