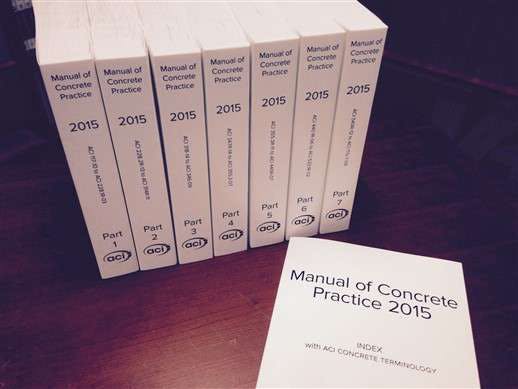 The American Concrete Institute has released its 2015 Manual of Concrete Practice that includes more than 240 "standards and reports," and made it available in two digital formats in additional to the seven-volume hard copy set.
The two digital versions, a USB drive and online, both offer "search and retrieval" software to search through the manual for standards, codes, specifications, reports and guides.
"The 2015 Manual of Concrete Practice contains all of the widely used ACI concrete and masonry requirements, specifications, guides, and reports that individuals and businesses go to for the best use of concrete," ACI said in a statement. "It includes information about concrete materials, properties, design, construction, reinforcement, specialized applications, repair, structural analysis, and hundreds of other topics."
The hard-bound manual, available here, is $559 for members and $931.50 for non-members. The USB drive version is $458 for members and $763.50 for non-members. The online version is priced the same as the USB version.
You can also download the 2015 manual's index as a PDF, here.