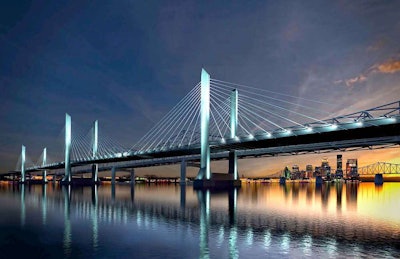 Walsh Construction crews have made the first concrete pour on the bridge deck of the Ohio River Bridges Project Downtown Crossing on the Indiana approach side of the river. The bridge will connect downtown Louisville and Jeffersonville, Indiana, and could be completed as early as January 2016.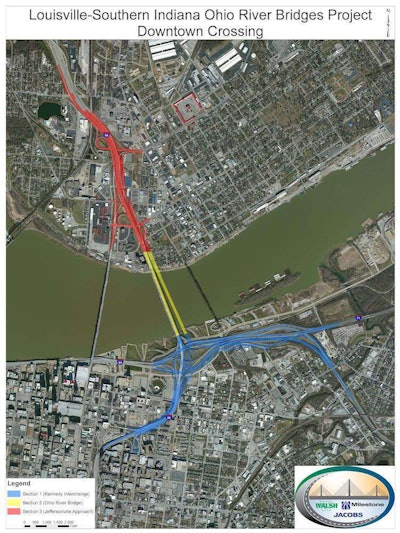 This pour is the first of nine total for the Indiana approach, with the final pour expected to be complete in June. Each pour, which will be completed mostly at night, takes approximately 10 hours.
An estimated 4,000 cubic yards of concrete will be used for the 1,050-foot Indiana approach, which will connect to a bridge deck being built at a tower closest to the Indiana shore. Officials expect the connection to be made this summer.
Construction of the deck for the entire Downtown Crossing bridge will continue into late fall, with a concrete overlay on tap to be poured then.
Other work to be done as part of the Downtown Crossing includes widening of Interstate 65 leading up to the bridge to accommodate six northbound lanes. Also being built are smaller bridges and several retaining walls leading up to the area.
Running parallel to the Downtown Crossing bridge is the Kennedy Bridge, which is undergoing rehabilitation with a new deck to carry six lanes of southbound traffic.