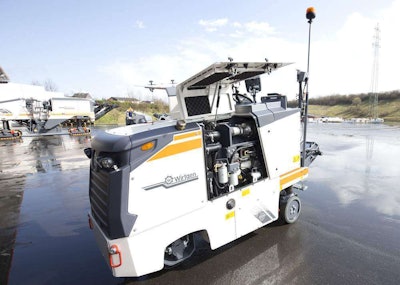 The new Wirtgen W 35 Ri, the latest in the company's lineup of compact milling machines, has a working width of 350 mm (13.78 inches) and a tight turning radius for work on small jobs in tight spaces, such as milling around manholes.
The machine, which follows the 50 cm and 1 m models, features a Tier 4 Final 45-Kw Deutz engine, which the company says provides a 7 percent increase in engine output. Three variably selectable milling drum speeds are available, and three milling depths are possible, with a maximum depth of 110 mm (4.33 inches). The W 35 Ri also can be outfitted with a 500 mm (19.69 inches) milling drum as well to "extend the machine's range of applications."
Wirtgen has added the LEVEL PRO PLUS leveling system to the machine, which provides precise milling. The system includes a high-resolution color display that an operator uses to view adjustments made via cable sensors.
The operator platform can be modified with additional components, and can be repositioned, with the operator being able to stand at ground level to control the machined with a joystick.