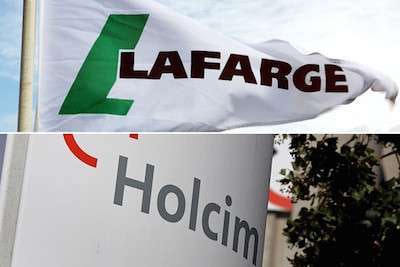 The massive merger of Holcim and Lafarge got the go-ahead from the Federal Trade Commission Monday, but not before the two cement giants had to agree to divest several assets in North America.
The FTC announced that the merger, would harm competition in the U.S. if the two companies didn't drop some of their investments in 12 markets across North America.
The combined companies will be known from now on as LafargeHolcim.
Lafarge is divesting to Continental Cement Company a Davenport cement plant and a quarry in Buffalo. The company will also divest cement terminals and distribution assets in La Crosse, Wisconsin; Memphis, Tennessee; Convent and New Orleans, Louisiana; and Minneapolis and St. Paul, Minnesota.
Holcim will divest its Skyway slag cement plant in Chicago to Eagle Materials, its slag cement plant in Camden, New Jersey, and a terminal near Boston to Essroc Cement Corporation and cement terminals in Rock Island, Illinois, and Grandville and Elmira, Michigan, to Buzzi Unicem USA. The company will also divest to a buyer to be approved by the FTC a cement plant in Trident, Montana, two terminals in Alberta, Canada, a cement plant in Ontario, Canada; and terminals in Duluth, Minnesota; Cleveland, Ohio; Buffalo, New York; and Detroit and Dundee, Michigan.
The FTC ruling also issues a hold separate order that requires the companies to act independently until all of the assets are divested. The FTC is also allowed under the agreement with Holcim and Lafarge to appoint someone to monitor that the two companies are following through on their obligations.