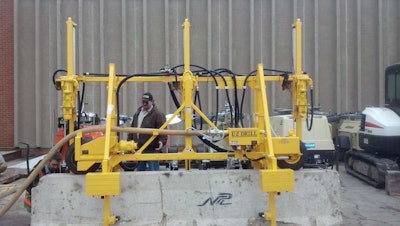 E-Z Drill has introduced a new 3-parapet wall drill that uses new technology.
The pneumatic 210 3-parapet wall drill provides continuous operations for drilling vertical holes for projects like securing temporary protective walls and temporary traffic barriers.
According to E-Z Drill, the new product drills up to 2.5 inches in diameter and as deep as 3.5 feet. The spacing between the drills can be adjusted to handle various drilling intervals.
The self-propelled drill has a roller bearing feed system to power each drill through air pressure in order to prevent drill bits from being ruined due to low pressure. In order to operate all three drills, the product requires a minimum of 300 cubic-feet of airflow per minute.
The drill also has a multi-point oil injection system that is more effective than the typical central oil system. And its quick-release bit guides also minimize downtime.
Atlanta runway project requires 50,000 holes
The company's 210 slab-riding drill recently assisted a contractor in a substantial upgrade at Hartsfield-Jackson Atlanta International Airport.
McCarthy Improvement recently took on the daunting task of working on a 9,000-foot-long runway at Hartsfield, one of the busiest airports in the world.
The biggest challenge was being given 30 days to complete the project in order to ease air traffic congestion. Their incentive to complete on time was an assessment of $750 for every minute the job took beyond the deadline.
The job required replacing about 900,000 square feet of the runway that was 20 inches thick, as well as the taxiways connecting to the runway.
"Throughout my 15 years with McCarthy Improvement, we've completed some complicated projects, but the Hartsfield-Jackson project has probably been one of the most challenging," said Nick Wolf, McCarthy Improvement southeast operations manager. "It had the shortest timeframe with the most work to do."
It took McCarthy three days to remove old concrete slabs, then within 15 hours they starting pouring concrete for the taxiway and runway. After 12 hours, the concrete was strong enough to begin drilling for reinforcing dowel bars.
Using E-Z Drill 210 slab-riding drills, McCarthy drilled roughly 50,000 11-inch deep holes for the dowel bars.
Due to this amount of drilling, engineers from E-Z Drill made two visits during the project, and ProContractor Supply, McCarthy's equipment supplier, stayed on call all day. "We were on call 24/7 during the project," said ProContractor Supply Regional Sales Manager Rob Morris. "So if their drills ever needed maintenance, for example if a drill motor needed replacing, we completed it on the same day."
McCarthy completed the project in 29 days, one day prior to the deadline.