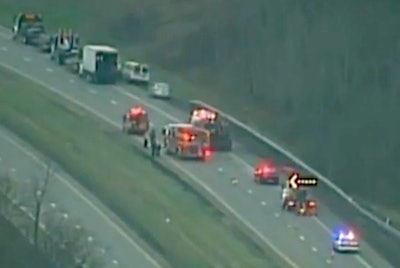 A construction worker installing guardrail along a Pennsylvania highway was killed last week when a vehicle or piece of equipment backed over him.
According to a report from the Pittsburgh Tribune-Review, 43-year-old Legrant Blackwell was in the blind spot of an unidentified "construction vehicle" inside a work zone on Route 22 in Washington County. The vehicle was in reverse when it struck Blackwell and trapped him beneath it Thursday afternoon.
Blackwell was an employee of Green Acres Contracting, the Tribune-Review reported. The company had been hired by the Pennsylvania Department of Transportation to replace a guardrail damaged in an earlier accident, according to a report from WTAE TV.
The Occupational Safety and Health Administration in investigating the accident.
Backover and runover accidents are prevalent inside road work zones. It's important for workers to always be familiar with the blind spots of all the vehicles and equipment on a given jobsite and to stay out of them. Another recommended work zone practice is implementing an Internal Traffic Control Plan (ITCP).
You can read more about forming an ITCP and how to keep yourself and your crews safe inside work zones by downloading our Safety Watch document on work zone backover accidents. And don't forget to check out all of our safety documents at our Safety Watch hub.