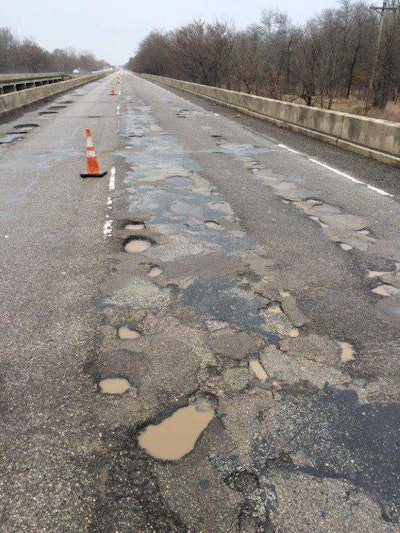 Like many states across the country, Oklahoma's highways were covered with potholes as a result of heavy rain and snow coupled with freezes and thaws throughout the winter and into early spring. As a result, Oklahoma Department of Transportation's (ODOT) expenditures for patches increased dramatically.
The department reports that in a 12-day period after the last freeze its crews placed more than 500 tons of patching materials in four counties in the southeastern part of the state. ODOT reports this is the equivalent of what was used for all of 2014 across the entire southeastern section of Oklahoma.
In the first three months of 2015, ODOT used 1,691 tons of patching material, a 49-percent increase over the amount used over the same time period in 2014.
But ODOT says the blame for increase potholes and patching can't be solely placed on the weather. Limited budgets and a focus on repairing structurally deficient bridges have kept funds away from pavement maintenance.
"The problems of 40 years of underfunding cannot be overcome in a few years," says ODOT Executive Director Mike Patterson. "ODOT is grateful to the Legislature and the public for investing in the system's bridge needs. Unfortunately, we cannot right all the wrongs in just a few years as we indicated when new funding became available in 2006. It will take a sustained effort to truly dig out of this hole and put Oklahoma back on track to meets its citizens' transportation needs."
The funding Patterson references came after the number of structural deficient highway bridges peaked at 1,168 in 2004. Due to increased state funding, bridges were replaced at such a rate that by the end of the 2014 inspection season that number had dropped to 372.
However, during that same time period, expenditures on pavement reconstruction stayed roughly the same.
"The bridges were the Achilles heel of Oklahoma's transportation system and we had to get that under control," says ODOT Chief Engineer Casey Shell. "But we have always said that there were as many pavement improvements needed as there were bridges to reconstruct. Due to the immediate safety concerns, we had to start with the bridges first, knowing that pavement needs would have to be addressed next."
With bridge repair now more manageable, ODOT says its focus will turn back to "restoring highway pavement conditions as previously planned."