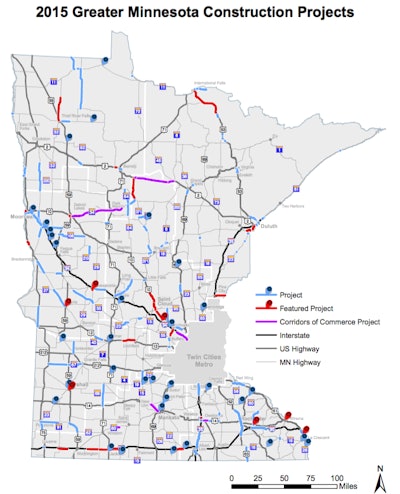 The Minnesota Department of Transportation has begun work on 290 transportation construction projects for this season, many of which will focus on preserving and maintaining the state's aging roads and bridges with short-term fixes.
Half of the states roads and roughly 40 percent of the bridges are more than 50 years old, according to Transportation Commissioner Charlie Zelle.
Zelle used the announcement of the projects as a platform for emphasizing the need for long-term planning and funding to improve the state's infrastructure.
"We know that if we spend more on the initial fix, that we get a much better return on our investment," he said. "If we resurface a roadway with a few inches of asphalt, we know we can get several more years out of that road. But if we spend the time and make the necessary investments to rebuild that same stretch of road, we can get 20 years or more—preventing further deterioration, and ultimately saving time and taxpayer dollars."
"The forecasts for road and bridge revenue show a sharp decrease in available funding for next year given the needs in the system. They also show a slight increase the following year, and then another downturn in 2018," Zelle said. "Add to that the fact that we see significant declines in our pavements and anticipate the need for much more bridge work after 2018, and you can see very clearly the need for additional, sustainable transportation revenues."
The complete list of the 290 projects is available here.