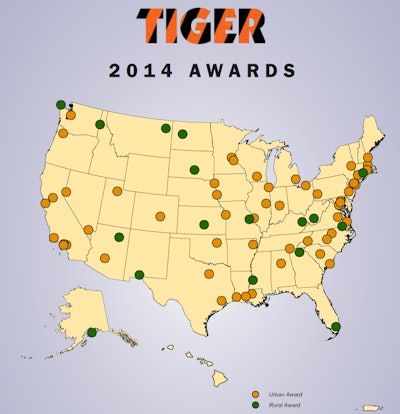 The seventh round of the Transportation Investment Generating Economic Recovery (TIGER) competitive grant program opens up $500 million for transportation projects, the U.S. Department of Transportation (USDOT) has announced.
The FY 2015 Consolidated and Further Continuing Appropriations Act, signed last December, provides for the TIGER funding this year. Applications must be submitted for capital investments in surfaced infrastructure, demonstrating that the projects "will have a significant impact on the nation, a region or metropolitan area."
Now in it's sixth year, the TIGER program has provided $4.1 billion for projects across all states as well as the District of Columbia and Puerto Rico.
The 2014 TIGER round provided $600 million to help $1.9 billion in overall transportation investments, USDOT said. You can view the award recipients for the 2014 award here.
Because of the success of the program, the recently submitted transportation bill dubbed the Grow America Act, requests a doubling of TIGER Funds.
"The TIGER program has funded innovative projects, sparked new partnerships, created intermodal connections and enabled hard-to-fund projects that are changing the face of communities all across the country," said Transportation Secretary Anthony Foxx. "We are excited to kick off this year's competition."
The funding has recently helped programs in Oklahoma, Connecticut, and Mississippi. "TIGER grants have helped my district get the funds we needed to improve transportation so our kids can get to school faster, our crops can get to market, and overall provide a better quality of life for the citizens in our area," said Mississippi State Senator Albert Butler.
Pre-Applications are due on May 4, 2015. Final applications are due June 5, 2015. For more information on how to apply, please visit www.dot.gov/TIGER.