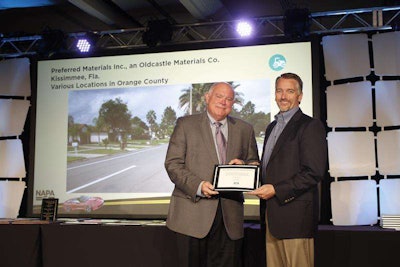 The National Asphalt Pavement Association is now accepting nominations for its Quality in Construction Awards and Operational Excellence Awards online.
"The Quality in Construction and Operational Excellence Awards recognize companies for delivering superior pavements through best practices," said NAPA Chairman Michael Cote. "NAPA members build smooth, safe, sustainable roads for the traveling public. Projects and companies that win these awards set the benchmark for other asphalt producers and pavers."
The Quality in Construction Awards are presented in three categories, including Asphalt Pavement Using More Than 50,000 Tons, General Paving Projects Using Less Than 50,000 Tons, and Airport Pavements. Projects using sustainable paving practices and projects exhibiting innovation are also recognized.
The 10 highest ranking general paving projects also receive the Larry H. Lemon Award. The award is named for Larry H. Lemon of Haskell Lemon Construction in Oklahoma City. Lemon served on the NAPA Awards Committee for 18 years and help in creating the rating system for the Quality in Construction awards. He also served as NAPA Chairman in 2010.
The top airport pavement is awarded the Ray Brown Airport Pavement Award. Ray Brown was the director of the National Center for Asphalt Technology for 16 years and retired in 2007.
The asphalt projects that use more than 50,000 tons that won a Quality in Construction Awards from the previous year are eligible for the Sheldon G. Hayes Award. Hayes was a founder of NAPA and its first chairman.
Nominations can be submitted through Oct. 9, and the winners will be honored at the NAPA 2016 Annual Meeting.
Operational Excellence Awards
The Operational Excellence Awards are presented for best practices exhibited in asphalt operations, safety, community relations, ecological practices, and marketing. Nominations can be submitted through Dec. 4, and the winners will be honored at the association's 2016 Midyear Meeting.