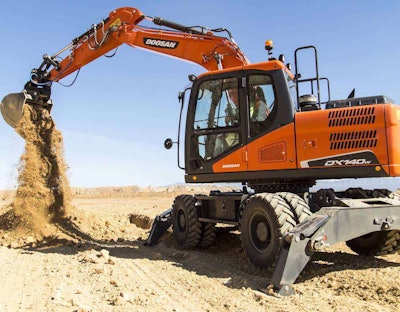 [imagebrowser id=222]
In North America, wheeled excavators are more of a niche machine, appealing primarily to municipalities in the Northeast, the Southeast Gulf Coast and Texas, and prized for their maneuverability and easy roading.
"They don't require trailers, and they have a 24 miles per hour maximum speed, allowing you to quickly drive between jobsites within a county," says Brian Bereika, product specialist with Doosan.  "You'll commonly see wheeled excavators on road projects, since they don't impact the road surface like crawlers."
One common application is moving Jersey concrete barriers to respond to ever-changing traffic patterns. Another is cleaning out roadside drainage ditches.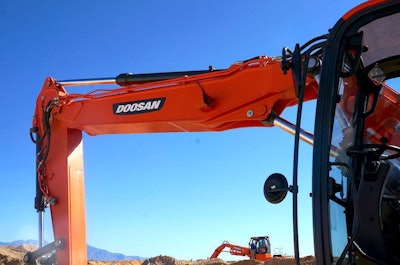 Noting this, Doosan has expanded its Tier 4 Final excavator lineup with three new wheeled models, the DX140W-5, DX190DW-5 and the DX210W-5.
The models can be ordered a variety of ways, including without the boom/stick, for those wanting to put on their own specialty fronts. They can also come with outriggers on front and back, or with two stabilizers in the rear and a dozer blade up front. (The blade can also be attached to the rear using a bolt-on system.)
Another popular option is a two-piece boom, with each piece operating on a hinge and independent of each other.
"The two-piece boom allows you to work in more radiuses than the one-piece boom," Bereika says, "especially working up close to the front of the outriggers. You can operate closer and down deeper than with a one-piece boom, and it allows you to get under lower-hanging items."
In the municipal market a wheeled excavator will be immediately compared to a telescopic boom wheeled machine, with its 55-mph max speed. While the wheeled excavator's max speed at 24 mph is less than half of that of the telescopic boom machine, Bireika points out some advantages: it can accept more attachments, has more stability at full extension and costs $100,000 less.
"Worldwide, Doosan is the market leader in wheeled excavators, so there are plenty of things for us to talk about," he says.
The three speed transmission can be put in high, low and creep. "It even has cruise control, like your car," Bereika says.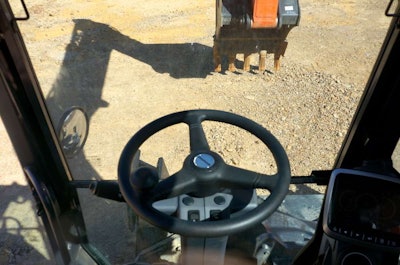 Above the wheels, these excavators have the same features and upgrades of their crawler dash-5 cousins, including a Smart Power Control engine mode, which offers both Variable Speed Control, decreasing engine rpms during low workload requirements; and Pump Torque Control, which matches hydraulic pump torque and engine response to the job.
The three models also have several in-cab enhancements, including an ergonomic joystick and camera monitor. The rear camera has been repositioned to below the counterweight offering a better vantage point.
The Tier 4 Final Doosan DL06 engine in all three models uses a high-pressure common-rail fuel delivery system along with cooled exhaust gas recirculation. A diesel oxidation catalyst reduces particulate matter; selective catalyst reduction aftertreatment reduces nitrogen oxides. The machines do not require the use of a diesel particulate filter.
A standard three-year subscription to Doosan Telematics gives owners, along with Doosan dealers, the ability to remotely monitor machine diagnostics, such as idle time, fuel use and engine temperature, along with any warning messages or alerts.