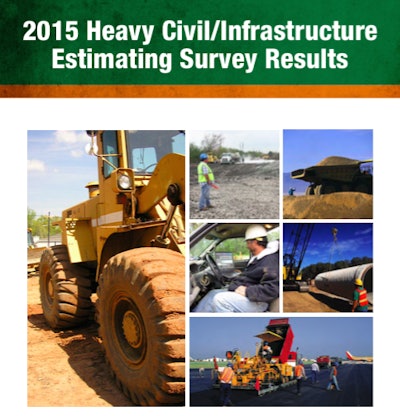 HCSS, a construction estimating software developer, has released the findings from its "2015 Heavy Civil/Infrastructure Estimating Survey," an annual review that looks at issues affecting the job estimating side the heavy/highway industry.
The survey received responses from 359 companies from 51 states and provinces from the U.S. and Canada. Canada represented 7 percent of the respondents. The majority of the respondents, 63 percent, were involved in road/highway work. Meanwhile, 57 percent of the respondents were involved in earthwork while 47 percent were involved in utility/pipeline work.
Among the more interesting findings from the survey were the fact that 38 percent of respondents bid on work outside their preferred specialty area or preferred geographic region in the last year. Also, 51 percent said their bid volume in dollars had increased in private sector work.
Further findings included:
69 percent of estimators at the companies served double duty as project managers.
9 percent said 1 to 5 bidders were on a typical bid, with 39.78 percent saying 6-10 were on a typical build. This is almost a reversal of 2013 figures.
56 percent said their average bid was less than $25 million.
57 percent said their company "had an OK year with some profit", vs. 33.62 who said they had "a good year with a good profit"
When asked about expectations for 2015, 49.86 said they would have a good year, and 40.85 percent said they would have "an OK year with a small profit."
61 percent said they were very happy with their current company and plan to stay long term.
92 percent said they were not currently looking to hire estimators.
Regarding mobile technology, 67.32 percent said their estimators do not regularly use an iPad or Android tablet as part of their job.
Respondents did seem to be giving out raises last year, with 72.24 percent saying they gave raises to field employees, and 55.49 percent saying they gave estimators raises.
Regarding healthcare benefits, 35.21 percent said they pay 75 percent or more of the insurance premiums for their estimators and their families, and 12.96 percent said they pay 75 percent or more of the insurance premiums for their estimators only. Regarding the impact of the Affordable Care Act, 31.52 percent said it had a substantial impact, but they would continue providing insurance, and nearly the same percentage, 29.26 percent said it had no substantial impact to their current plan.
A copy of the survey results can be downloaded for free here.