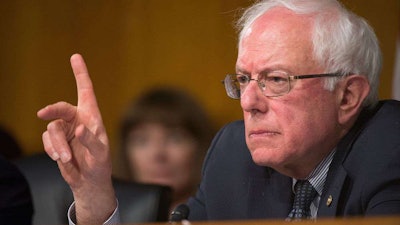 A $478 billion transportation funding amendment to the 2016 budget put forth by Independent Vermont Sen. Bernie Sanders was struck down March 24, according to a report by The Hill.
In a 52-45 vote, the Senate ended the amendment that would have pulled funds from a repatriation measure to collect tax dollars from overseas profits generated by domestic companies. The amendment was added a GOP budget proposal, according to a report by USA Today.
Roughly $100 billion in tax revenue is estimated to be lost to offshore profits and investments.
The main objection to the amendment was procedural in nature, as Budget Committee Chairman Mike Enzi (R-Wyo.) said such a measure couldn't mandate that a committee make a tax reform and dictate where the money is to be channeled.
"We can't be doing a budget where we tell committees exactly how to do their work," he was quoted as saying in The Hill Report.
Despite the amendment's rejection, much of the talk from legislators on infrastructure and transportation funding has centered around corporate taxes. The Obama administration is pushing for tax code reforms to bolster funding and the idea has received support from both sides of the aisle.
In February, Sens. Rand Paul (R-Ky.) and Barbara Boxer (D-Calif.) proposed a corporate tax holiday to boost funding. The proposal would give businesses a reprieve from penalties for avoiding prior taxes if they agree to move money back to the U.S. and pay a 6.5 percent rate on it.
Sanders had previously presented a bill he titled the "Rebuild America Act" that would have designed $1 trillion for infrastructure and transportation spending over a five-year period.