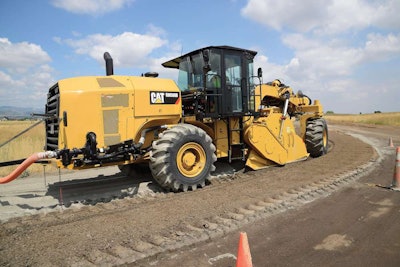 Designed for both full-depth road reclamation projects and soil stabilization jobs, Caterpillar has launched an update to its RM500 rotary mixer with a Tier 4 Final engine and several new features an enhancements.
The RM500B has an operating weight of approximately 62,611 pounds and is powered by a 546-horsepower Cat C15 ACERT engine. Cat says the new engine increases fuel efficiency while still providing high horsepower through a turbocharged air-to-air aftercooling system.
The all-wheel-drive machine features four-mode steering and two speed ranges all electronically controlled through a keypad in the cab.
The RM500B is capable of working both forward and reverse and automatic rotor load control optimizes performance by matching the speed of the machine to the load on the engine with the press of a button.
The machine also features three rotor depth control modes at three rotor speeds:
Travel Mode: Rotor moves to a factory-calibrated full-up position and remains there.
Manual Mode: Operator controls the position of the rotor by using the RAISE/LOWER buttons. A visual depth gauge is positioned on each rotor lift cylinder so the operator can precisely control the cutting depth of the rotor from the operator's station.
Automatic Mode: Microprocessor maintains rotor depth at the position set by the operator.
Cat also offers three rotors for the RM500B:
Universal rotor: Can be used for either full depth reclamation or soil stabilization and is equipped with 200 point-attack carbide-tipped tools mounted in drive-in, knock-out, bolt-on tool holders and arranged in a chevron pattern for maximum breakout force.
Soil rotor: Used for a variety of soil mixing and stabilization applications and blends additives with semi-cohesive or granular materials.
Combination rotor: Designed primarily for use in soil stabilization applications in cohesive materials, but also works well for light asphalt reclamation.
The machine also features a hydraulic sliding cab that can quickly be moved during operation to improve sight lines. The cab also features a rotating, heated, cloth seat; control console with LCD touchscreen; tinted glass; heating and air conditioning; and a display for front and rear camera feeds.
Daily service points are accessible from the ground with a large engine access door and side access panels for the engine components and cooling system.
The RM500B is wire-ready for Cat's ProductLink telematics service and available options include:
Roll Over Protective Structure
Falling Object Protective Structure
Road operation light package
Warning beacon light
Mirror package
Bolt-on counterweight
Remote camera facing the rear chamber door
Folding push bar
Emulsion spray system
Water spray system