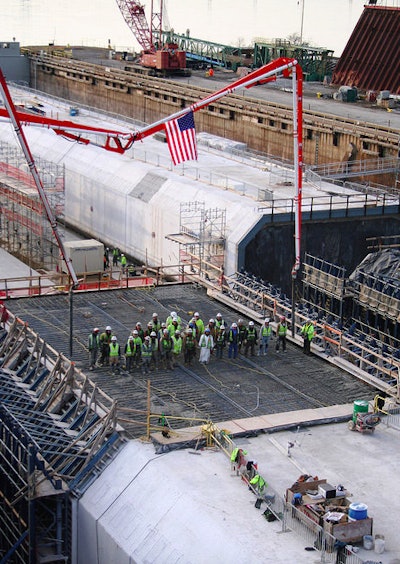 The sixth of 11 elements being used to create a new two-lane Midtown Tunnel connecting Portsmouth and Norfolk, Virginia, was placed March 5 by the Elizabeth River Tunnels (ERT) Project team.
This element will be the deepest component of the tunnel (roughly 90 feet), which is being placed parallel to the existing U.S. 58 Midtown Tunnel.
The project involves Elizabeth River Crossings OpCo, which is handling the "design, construction, finance, operations and maintenance" as a private partner of the Virginia Department of Transportation.
According to ERT, the current Midtown tunnel is "the most heavily traveled two-lane road east of the Mississippi." This tunnel will become the U.S. 58 East Midtown Tunnel, with the new tunnel handling U.S. 58 West traffic. Construction on the new tunnel began in 2013, with expected completion by the end of 2016.
Each element, made up of five sections, weighs approximately 16,000 tons, with all 11 sections requiring 72,000 cubic yards of concrete. They are fabricated in Sparrows Point, Md., and towed by a tug fleet the 220 miles to the Portsmouth/Norfolk site. Once at the site a lay barge places the element adjacent to the previous section.
Officials say the remaining five elements will be placed at a rate of one every five weeks.