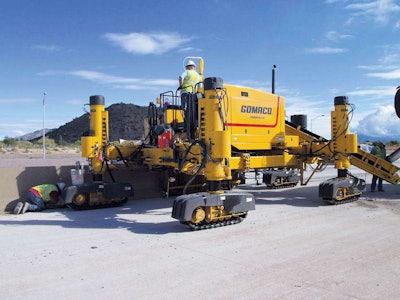 [imagebrowser id=193]
Performance, safety, and visibility are key to GOMACO's Next Generation Commander III which debuted this week at the World of Concrete in Las Vegas.
The company's G+ control system is the major driver for these factors. The system controls hydraulic fan speed, a pivoting operating console, and electronic and hydraulic initiative. Telematics can be accommodated to allow for remote engine and machine monitoring, and the G+ Connect™ can interface with 3D guidance systems. The latter has been a key part of GOMACO's strategy for the better part of a decade, according to vice president of Engineering/Research and Development Kevin Klein.
"It's all about connectivity," Klein said. "With CAN ports positioned throughout the machine, we've opened up accessibility and control."
Klein provided a thorough walk around of the new machine, highlighting the integrated connectivity of the Commander III, from the top control panel, which features a roll top cover and unfettered access underneath for connections and repairs, a GBox controller on each leg, and the optional on-board camera for monitoring from a portable display at ground level.
The camera is a first for the Commander III. It can be placed in any spot on the machine and offers a live feed to the G+ display on the main console or to the portable displays used at ground level.
The GBox controller makes it easier to access, service and troubleshoot issues with the machine and provides a new location for the proportional valves and slave control, and creates a central location for the hoses and wiring to feed through. Access is improved via a hinged access door.
The paver also has a new cooling package giving the G+ control over the hydraulic fan to adjust to specific job conditions to allow for a quieter running time, one of the noisier parts of a paver Klein said, and more efficient operation.
GOMACO didn't stop with operator comfort at just the noise reduction. They also incorporated into the design an isolated platform to cut down on vibration; something Klein said is a major concern in Europe.