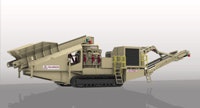 MEQUON, WI – Telsmith, Inc., an Astec company, introduces the new Tel-Trax Model TC52SBS – a higher capacity track-mounted cone crushing plant that is ideally suited to work in conjunction with larger primary track plants (such as the Tel-Trax TJ3258 Jaw) to significantly increase the production capabilities of track-mounted systems.
Built around the 400 HP, model 52SBS cone crusher, the TC52SBS is one of the largest track cone plants available in the industry today. The plant significantly boosts tonnage output in secondary and tertiary applications, while accepting larger feed (up to 12-inch topsize) when compared to the more common 300 HP units.
The 52SBS field-proven features and benefits include a Dynamic Adjust™ system that enables adjustment under load; overload protection via hydraulic relief and clearing; a unique hydraulic lock system; and an optional anti-spin system that extends manganese life.
For enhanced operational efficiencies, the Telsmith Tel-Trax Model TC52SBS is outfitted with automation controls that reduce the need for operator oversight. The system monitors parameters such as crusher overload, feed bin levels, diesel power supply, and the discharge conveyor to automatically adjust the feed rate. The automated controls package also allows a soft link to additional Tel-Trax crushing and screening plants to provide a completely linked and integrated processing solution.
The new Telsmith Tel-Trax Model TC52SBS will be displayed at ConExpo/Con-Agg 2011, in the Astec/Telsmith Booth C-5133, where product engineers will be on-hand to discuss its benefits.
For immediate information, visit www.telsmith.com. Or, call toll-free 800-765-6601; or 262-242-6600; or e-mail sales@telsmith.com