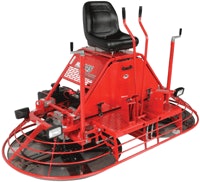 The Allen MSP 445 is a totally new Mechanical Drive Riding Trowel in the Allen riding trowel line-up. The higher horsepower, new improved torque-converter clutch and improved weight to horsepower ratio allows you to pan through the toughest pours, the MSP 445 is a concrete finisher's dream. The MSP 445 is the latest addition to Allen's Mechanical Super Pro (MSP) Series of Riders.
MSP 445 standard features include:
► Manual Steering and pitch controls
► 40 HP air cooled Kohler gasoline engine
► Torque converter clutch system
► Two 46" diameter, 5-blade non-overlapping rotors
► Rotor Speeds up to 165 RPM
► Electric powered spray system for application of retardant
► Flip-up seat and removable screens for superior accessibility to engine, clutch and drive-line.
You can see the MSP 445 riders as well as the entire Allen Product offering in Booth #O30621 outside in the silver lot at World of Concrete 2011 in Las Vegas, Nevada.
For more information, visit the AEC web site at https://www.alleneng.com/.