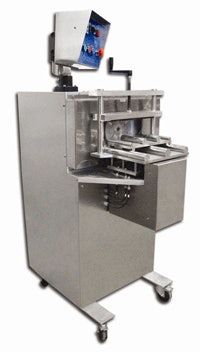 GENEQ Inc. is a well established Montreal based distributor of Testing Equipment for the Concrete Industry. Recently Geneq has launched its own Automatic Cylinder End-Grinder.
This unit quickly grinds specimen ends plane and parallel according to ASTM standards. It is supplied complete and ready to use for both three 4×8" or two 6×12" concrete cylinders. Units are manufactured in Canada thus allowing for lower prices and rapid accessibility for replacement parts.
Unique features include full automatic operation and Stainless Steel construction assures no corrosion. Superior quality grinding wheel grinds faster and smoother than competition. CSA approved.
This grinder was developed with you the end-user in mind… Our grinder operates on standard 120 volt 60Hz. The Swivel Control Panel provides for easy viewing and operation. A well situated access panel allows for easy maintenance. The unit is mounted on wheels equipped with brakes allowing for mobility and stability when in operation.