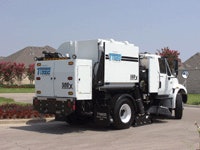 The Model 500x High Side Dump sweeper is the most innovative product of its kind on the market today and has revolutionized the way the world sweeps. Engineered with features unmatched within the industry, the Model 500x was developed to fulfill the requirements of municipalities, highway departments and contractors who have the need for high dump sweeper applications.
The Model 500x features a variable dump height from 2 feet to 11 feet from the tip of the dump chute to the ground with the hopper fully tilted, enabling the 500x to dump into various size containers. The large dump chute projects debris into the middle of the dump container without the need of a hopper side shift. The fast dump cycle means more time sweeping, less time dumping.
The large 5.7 cubic yard hopper is constructed of non-magnetic stainless steel, as is the dump chute. The heavy duty scissor lift assembly has a 10,000 lb. lift capacity and all pivots on the lift are self-lubricating. Dual stabilizers automatically deploy before the dump cycle begins, assuring stability throughout the dumping procedure.