By Tina Grady Barbaccia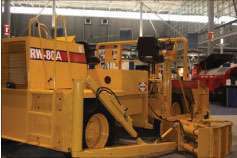 LeeBoy's Blaw-Knox road widener
VT LeeBoy showcased its new RW-80A road widener at the 2010 American Public Works Association (APWA) trade show in Boston in late August. The machine will be part of a product line of five road widener and commercial paver products from LeeBoy's new Blaw-Knox Commercial Paving Products division. Each will carry the Blaw-Knox logo. The brand use is provided through collaboration with Volvo Construction Equipment.
The new RW-80A will be produced at the company's manufacturing facility in Lincolnton, N.C., and will be distributed via Volvo dealerships during the first quarter of 2011. The machine boasts an 80-horsepower diesel engine with a machine weight in excess of 18,000 pounds. Each unit is provided with an 8-foot strike-off group enabling 6-foot strike-off capability at a 45-degree angle for proper material flow. This model is designed for ease of maneuverability and is shorter than other model offerings such as the RW-100B and RW-195E also built by the Blaw-Knox division of LeeBoy.
Four other models of which the product line is comprised include the RW-100B, RW-195E, PF-150B and the PF-161B. Additional product line expansion is planned.
Further details will be available at www.blawknoxpaving.com, which is expected to be unveiled this month.
Power-dense and refined loaders
Caterpillar says its new B-Series 3 compact loaders – Skid Steer Loader models 216B3, 226B3, 236B3, 242B3 and 252B3 and Multi-Terrain Loader models 247B3 and 257B3 – are more reliable, safer and easier to operate. A larger engine and more powerful hydraulics for the 242B3 and 257B3 make these models "power-dense." All models include a single electronic control module (ECM) relocated for improved access and reliability, plus new ECM-enabled features. A heavy-duty battery (880 CCA) is now standard equipment on larger models and a redesigned dead-engine lower valve provides a safe exit for the operator if the machine runs out of fuel or the engine stall with the lift arms raised.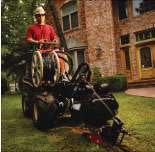 Heavy-duty track options for compact trenchers
Ditch Witch now offers a heavy-duty track option for its two-wheel-drive R230 and R300 Zahn compact trenchers. Previously, each unit offered standard air-filled or optional urethane-filled, flat-proof tires. The heavy-duty tracks allow for increased traction on the machines, particularly on uneven and rough terrain. The heavy-duty tracks also let the trenchers to travel across trenches as well as "walk" or oscillate 12 degrees, for greater traction when loading, unloading, and maneuvering over curbs or other rough and uneven terrain. Optional heavy-duty tracks are available for the four-wheel-drive R230 and R300, both of which accept seven different types of front ends.
Durability, accuracy in harsh environments
Topcon Positioning Systems has released its AT-B Series auto levels, which can focus on objects at 7.9 inches in front of the telescope, where previous models provided 1.6 feet or 3.3 feet minimum focusing distance. The compensator of AT-B Series incorporates four suspension wires made of high-tensile metal that features minimal thermal expansion coefficient, which Topcon says provides durability and accuracy even in harsh environmental conditions. The system also features a finely-tuned magnetic damping system that levels and stabilizes the line of sight despite fine vibrations.
Capture high-resolution position info
Trimble has enhanced its Trimble FX 3D Laser Scanner for applications requiring high-accuracy and high-quality data with the range to capture high-resolution position information up to 80 meters, allowing more data capture from each setup. The laser scanning solution can be used for, among other things: capturing existing condition data; ensuring existing condition data; ensuring dimensions of high-tolerance fabricated parts prior to transportation and installation; verifying as-built construction; visualizing real-world conditions; monitoring plant assets and potential movement or deformation during use; and planning retrofit construction projects based upon highly-accurate data.
High-performance separator curb
Tuff Curb from Impact Recovery Systems is a durable, high-performance separator curb that works, in conjunction with Impact Recovery Systems full line of spring-mounted posts and signage. This versatile curbing system is easy to install and can be utilized for curves, medians, edge lines, work zones and rail crossings. Tuff Curb is Texas Transportation Institute tested and NCHRP 350 approved.

Plug-and-play means no pre-configuration
The new GR10 from Leica Geosystems is designed for a variety of GNSS reference station applications. A plug-and-play setup using a unique receiver hostname and DHCP support means no pre-configuration of an IP address. Key status information is available on every page. System monitor tools, system backup and restore, configuration wizards and comprehensive online help, tool tips and multiple language support make the GR10 easy to manage and maintain, says Leica. The Active Assist feature allows authorized access to the GR10, even if the receiver is behind a firewall.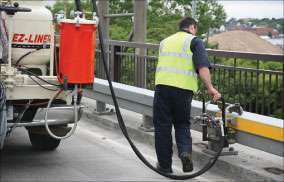 Direct application guardrail striping
The new "Jersey" barrier and guardrail paint striping system from EZ-Liner Industries provides a continuous reflective stripe that can be directly applied to existing barriers or guard rails for increased safety in dangerous curves, entrance and exit ramps, low light areas, and work zones. Used in conjunction with Diamond Vogel's formulated horizontally-applied paint and beads, the system dramatically reduces nighttime accidents, according to EZ-Liner.
Stainless salt and sand spreaders
Hiniker Company's snow and ice control product line includes two stainless steel salt and sand spreaders, the 6.5-foot model 625 and the 8-foot model 825. Standard hopper capacities are 1.8 cubic yards in the 825 model and 1.5 cubic yards in the 625 model. The swing-away spinner chute allows for easier unloading and improved trailer hitch access, according to the manufacturer. The spreader features a Briggs & Stratton Intek OHV air-cooled, single cylinder, four-cycle engine. An in-cab control console operates the electric starter, clutch, and throttle functions. Available options include hopper screens, tie-down kits, and a high-mount brake light.
We have more New Road Products in our Digital Edition at www.betterroads.com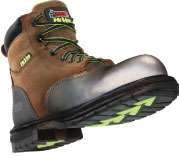 Retroreflective boots for extra safety
The HiVis IronClad boots from Rocky Boots uses the same reflective features used on road sign, and the leather treatment makes the boots extremely sensitive to light, to provide safety for those working in low light or dark conditions. The heel and vamp appear to be standard leather during the day, but when the HiVis retroreflective leather is illuminated, bright light is directed back toward the viewer. The boots have guaranteed waterproof construction; extra durable-ribbed tempered steel shank; lightweight, shock-absorbing and flexible EVA midsole; optional steel protective toe; an air-port vented polyurethane cushion footbed; and seven-layer slip and oil resistant outsole.
Ready-to-use lithium densifier
Liquid-Hard Ultra lithium concrete densifier and chemical hardener is a ready-to-use, colorless liquid, which hardens and dustproofs concrete at a molecular level. As it is applied and penetrates into the concrete surface, a chemical reaction takes place, producing a byproduct that fills in the pores of the concrete one molecule at a time. The hardener then solidifies the concrete to eliminate dusting and pitting. The product is simply sprayed on and then brushed into the surface using a microfiber mop.
Watch the road while measuring
FastMeasure by KTP Enterprise has released the FastMeasure Qua, its newest distance measuring device that allows the user to measure four lines at once while driving at highway speeds. Each meter is independently controlled by the key fob size remote control to hold the count in areas where measuring is to be skipped, allowing the user to watch the road while driving. Meters, a sensor, remote control unit, instructions and all electrical components are included in the installation kit.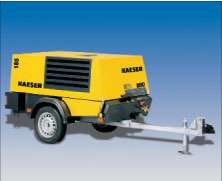 Easy start compressor
Kaeser's M50 Mobilair portable compressor delivers 185 cfm at 100 psig, now with a push-to-load switch to provide an easy start. Features include the power-saving Sigma Profile rotary screw airend and a heavy-duty, 4-cylinder Kubota diesel engine. The M50's galvanized steel canopy allows quick access to all components for easy servicing and also reduces noise levels. All units also feature a cold-start battery and an instrument and lighting package.
Street sweeper, no chassis required
The new heavy-duty, chassis-mounted GS6 Regenerative Air Street Sweeper from Schwarze Industries is now available. The GS6 is engineered with different approach, manufactured without a chassis on site and then shipped in a container to the mounting location for final installation on the chassis. Standard features include a fan system which the company says allows thesweepers run more than 70 percent quieter and with up to 20 percent less fuel consumption. A standard Sweeps-In-ReverseSM feature, allows operation in both forward and reverse directions.
Remote links to multiple units
Rice Lake's LaserLT remote display is watertight with a five-button keypad can remotely change units, gross/net, tare, zero and print. Improved by a unique lens material and -optional visor, the contrast of the LaserLT's large 1-1/2-inch display is fully adjustable for viewing at up to 50 feet. The display is daisy chainable for linking multiple units to a single indicator/controller, and six enunciators and an added red and green stop/go feature help to boost communication. The display can be installed with any electronic weight indicator or peripheral equipment by using fiber-optic, Ethernet, or wireless methods.