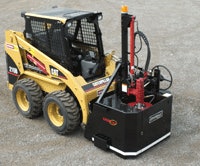 Equally at home on the road as its Utilicor truck mounted, big brother, and employing the same robust, hydraulic coring equipment, the 48″ wide Minicor™ coring attachment works on sidewalks or in other confined spaces where larger truck-mounted machines won't fit. Fits all skid steer loaders with a Rated Operating Capacity of 1400 lbs. and a hydraulic flow rate of at least 17 GPM. (Standard flow) Compact size and mobility means fast accurate work in tight spaces and the large 100-gallon water tank allows you to core a day's work with one fill-up. The integral, universal quick-attach coupler system and quick-connect hydraulic and electrical hook-up lets you "plug and play" and be ready to core in minutes. The 30 inch coring stroke cores up to 22″ deep, through asphalt, concrete or reinforced concrete pavement and fits coring drums from 2″ to 24″ in diameter. The orbital, flow-regulated, coring controls, with back pressure and down pressure gauges, makes coring easy and accurate. High and low pressure onboard water systems make site cleanup easy.
UTILICOR™ Technologies Inc. is the exclusive manufacturer and distributor of the field-proven, keyhole pavement coring and reinstatement system, used by over 30 major gas utilities in the United States, Canada, the United Kingdom and France.
The Utilicor process combines the purpose-built, field-proven Utilicor coring unit with Utilibond™, a proprietary core bonding compound, which has been specifically developed for the permanent reinstatement of cored pavement coupons ("keyholes") in all types of paved roads and sidewalks. The process has been tested and approved by the National Research Council of Canada, the United States Army Corps of Engineers, and by AASHTO approved laboratories and testing facilities of the Department of Engineering of the University of Illinois.
Utilibond™, our proprietary bonding compound is an integral part of the reinstatement process and has fast become the industry standard. Independent testing has shown that it creates a bond that is stronger than the original pavement and is capable of supporting the combined weight of six transit buses.
Utilicor Technologies Inc. is the world leader in providing the equipment necessary for the proper implementation of the keyhole coring and reinstatement process for natural gas and other utilities and their contractors, and has successfully helped these companies launch and maintain a cost effective keyhole program to address all their small hole needs.
With over 50,000 reinstated cores in both roadways and sidewalk over the past 20 years, Utilicor is helping the utility industry increase their internal efficiencies, achieve a greater return on their investments, reduce the impact of utility construction practices on the travelling public, and helping utility companies and their contractors worldwide become greener and cleaner while performing necessary utility repairs to the buried underground infrastructure.