Machine Control for Pavers
Smart system manufacturers offer paving crews some cool high-tech help
By Mike Anderson
If you're in the asphalt paving game, regardless of what make or model of machines you're running with, chances are your product search has extended beyond your trusted OEM. Nailing those performance bonuses is not only about the paver, but the smart technology you increasingly need to add to the paver. If you don't know Topcon, Trimble, Leica and MOBA already, you undoubtedly will.
Each of the aforementioned offers products designed to enhance the quality of pavement being laid down by the Terex, Roadtec, Caterpillar, Vögele, Volvo, Barber-Greene or any other asphalt paver you have out working today.
Last fall, Trimble introduced a 3D extension to its 2D Paving Control System, the PCS400, which had itself only debuted in the early months of 2009. By directly referencing the road design, the newer PCS900 automatic screed control system allows contractors to "accurately pave complex designs without a reference surface or stringline," reports Trimble. This not only saves the time and effort required to set and adjust stringlines, but also eliminates the need for trucks moving on and off site to navigate around the stringlines. The operator simply loads the design data into the PCS, from which point the paver automatically holds the screed on design.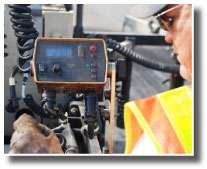 A particular selling point to a fleet manager considering the 3D PCS900 is the ability to use, recycle or leverage existing components, says Trimble. As an extension to the PCS400, the PCS900 allows a contractor to switch from the 2D grade and slope mode to 3D depending on the job's requirements. The combination of PCS systems provides the choice between sonic sensors, slope sensor, sonic averaging beam, 3D slope and 3D elevation control. The expansion of Trimble's 3D machine control "mix" to include asphalt pavers provides additional options for the use of grade control components already at use elsewhere in the fleet, the company espouses. "Contractors can now use their SPS Series Universal Total Station and move their Trimble GCS900 Grade Control System display, radio and sensors between dozers, graders, excavators, soil compactors, milling machines, trimmers and asphalt pavers," says Trimble.
Systems suppliers – and in some cases paver manufacturers themselves – are ready to pitch products that could "revolutionize pavement quality control."
The PCS900's coordination with existing components goes beyond Trimble products, too. The system, the company says, can be mounted on top of the MOBA-Matic leveling control system, a Control Area Networks (CAN) communications-based product suited for both asphalt pavers and milling machines. The MOBA global system features a range of grade sensors that includes a Sonic-Ski averaging grade sensor, Digi-Rotor sensor, wire rope elevation sensor, proportional laser elevation sensor and slope sensor. With no wands to break off, no grid arms to balance or break, and no wire temperature bails to bend or lose, the Sonic-Ski has an accuracy of +/- 0.04 inch and likewise has better temperature compensation than a single sonic because it is closer to the reference, says MOBA. With the Sonic-Ski sensor, five separate ultrasonic measurements are made 11 times per second, and the "best" three are averaged to calculate an average elevation. "By averaging," explains MOBA, "the small irregularities are taken out of the calculation and do not influence the resultant value."
Also available, the Big Sonic-Ski provides multiple sensor averaging to compensate for irregularities over long distances, allowing the smoothing of road waves not possible with a single sensor, says MOBA. "Small irregularities are discarded and large irregularities are averaged with all nine individual sensor measurements," the company says. "The machine does not require a perfect reference anymore."
While manufacturers of asphalt pavers comprehend and appreciate that users of their products will add machine control technologies to most productively operate the roadbuilding equipment, OEMs are by nature most often hesitant to publicly proclaim any one third-party system. This is not usually a reflection of the quality of accessories available to complement any types of machines made by OEMs, because the overall benefits of "add-ons" are understood and even applauded by product managers, but rather it's a general equipment manufacturing mantra to leave doors as wide open as possible for their dealers and end-users alike to work with whom and what they need to in order to be most productive. Those OEMs may show their equipment with a preferred third-party product attached, even perhaps a product specifically made for their carrier, but most often won't stand up and shout this out loud. Makers of excavators, dozers, graders and other construction equipment are likewise predisposed when it comes to the topic of breakers, rippers and, indeed, machine control systems.
Thus, it generated some raised eyebrows at the World of Asphalt show in Cincinnati, Ohio this past February, when a representative of roadbuilding equipment manufacturer Roadtec brought attention to a new MOBA product during his company's press conference. In his unsolicited address, Roadtec marketing manager Eric Baker even encouraged those gathered to make their way to the MOBA booth elsewhere in the convention center to find out more about the Pave-IR system, "which could revolutionize pavement quality control." The MOBA Pave-IR system, an example of which Roadtec did have mounted on the back of a highway-class RP-195 paver on display in its show booth, uses a sensor beam to produce a thermal profile of the paving project, allowing the operator to detect segregation in real time. In addition, the project files are stored and, using MOBA's Pave Project Manager software, can be transferred back to the office for review. The standard screed-mounted beam has 12 infrared sensors; the product is scalable up to 24 sensors or a width of 24 feet.

Meanwhile, "as simple as connecting a cable to a manufacturer-provided interface" to engage, Topcon's System Five allows users to select sonic elevation control and slope control on road paving jobs, laser and slope for airport runways and parking lots, and dual sonic trackers or laser receivers to match to existing surface on maintenance or widening projects. Comprised of two secure-access System Five control boxes, a slope sensor and two Sonic Tracker II non-contacting sensors (or laser receivers), the system is compatible with both previous-generation System Four and next-generation 3D machine control systems, the company says.
Also as part of its "advanced screed control for asphalt pavers," Topcon offers the complementary Smoothtrac sonic mat averaging system, a lightweight aluminum ski using four Sonic Tracker II sensors for electronic averaging. Used optionally in conjunction with System Five, when it replaces the ski-side Sonic Tracker II sensor, Smoothtrac replaces traditional contacting or "drag" skis that average based on mechanical contact with the ground. And, when equipped with a Smoothtrac as opposed to a traditional ski, a paver can be backed up, turned around and worked around curves without the need to remove and reinstall the ski. When the job's complete, the Smoothtrac breaks down into three eight-foot sections for easy stowing.
The Sonic Tracker II sensor central to both of the chronicled Topcon systems sends out a "packet" of sound pulses 39 times per second, producing an echo upon striking a reference that in turn travels back to the device. By calculating the time it takes for the sound cycle, the Sonic Tracker II calculates the distance to the object. To compensate for sound traveling faster through warmer air, a "bail" is used to create a distance constant.
As part of its growing suite of PaveSmart 3D products, Leica offers a system that eliminates the need to set stringline for any kind of asphalt paving application. Consistent with PaveSmart products for milling machines and for both concrete slipform and curb-and-gutter pavers, Leica PaveSmart 3D for Asphalt Pavers uses computerized project design files straight from the architect's CAD system, storing at one time hundreds of designs ranging from simple to complex. With the crew able to view full 3D graphics available at a glance, automatic elevation and slope control provided via Leica's 3D sensor technology help deliver continuous, high-quality pavement, the company says.
The PaveSmart 3D for Asphalt Pavers system directly supports the MOBA-Matic leveling control system, Vögele NaviTronic machine control system and Vögele Niveltronic automated grade and slope control system. Furthermore, when used on a Vögele tracked paver, it can also automatically regulate screed width and steer.
Leica was a pioneer in stringless concrete and asphalt paving, trimming and milling technology and, as eluded to above, offers as part of its product suite a number of systems aimed at specific customers. This is highly evident on the concrete side of the paving business, where Leica offers what it markets as the GOMACO Mainline Slipformer 3D System, GOMACO Fine Grade Trimmer 3D System and Wirtgen Slipformer 3D System.
When it comes to paving, there's clearly plenty of smarts to go around, no matter who brought you to the dance.v