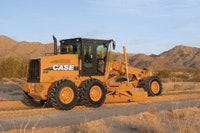 RACINE, Wis. The certified Case engines offered in the Case Construction Equipment 800 series motor grader line deliver a stronger throttle response at every rpm, improved cold-start capability and reduced noise.
The engines on the 800 Series motor graders are electronically controlled and fueled through a high-pressure common rail fuel-injection system. This provides responsive engine control, greater fuel efficiency and a cleaner burn.
Increased horsepower across the entire Case motor grader line supplies additional power to meet the most demanding applications. The 845 DHP (dual horsepower) maintains the horsepower range required to meet the demands of fine-grading applications, while also providing an increase of 14 percent for tough conditions.
The 865 VHP (variable horsepower), the most popular machine in the Case motor grader lineup, incorporates all of the most recent enhancements to productivity while delivering an increased 205 net horsepower. Variable horsepower allows a range in horsepower to match the needs of the application at hand by delivering better traction control while maximizing fuel economy.
The largest Case motor grader, the 885, takes advantage of the fully electronically controlled Cummins engine, providing increased power while meeting certification.
Case motor graders continue to lead the industry with ease of maintenance. One-piece hoods provide complete access to the engine and cooling package while providing ground-line maintenance checks. Both batteries swing out for easy servicing and access, while fluid sight gauges simplify daily inspections. The temperature-controlled reversing fan purges materials from coolers, maintaining optimum operating temperatures.
Operator comfort enhanced
The steering column is adjustable to allow an even greater ability to match the operator's preferences. Low-effort control levers are grouped closer together and extended for increased operator control.
All Case motor graders are equipped with a front articulation joint that provides excellent visibility to the moldboard.
For additional motor grader product specifications, customer testimonials, competitive comparisons, finance offers and more, please visit www.casece.com. For a Case skid steer demonstration, see your local Case dealer.