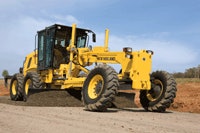 Ranging from 140 to 205 hp, with standard blade lengths from 12 to 14 feet, New Holland Construction motor graders are engineered to perform in every application, from ripping and rough grading to precise and accurate finishing work.
Front articulation
The operator's cab is mounted behind the articulation point, providing an excellent view of both ends of the working blade, and enabling the operator to maneuver and respond quickly.
Rugged construction, smooth ride
With heavy-duty, box-section construction, the rugged frames of the G140, G170 and G200 motor graders are designed to endure the most rigorous working conditions. Durable front axles stand up to the toughest grading jobs and oscillate up to 19 degrees to manage rough terrain. An extra-long wheelbase helps delivers an exceptionally smooth ride.
Outstanding visibility
Featuring thin corner posts and door frames, and more than 62 square feet of glass area, the cab on New Holland motor graders provides an excellent view in all directions. An integrated sunshade reduces glare, and standard front and rear windshield wipers/washers ensure a clear view. Interior and exterior mirrors help the operator keep tabs on any activity behind the machine.
New Holland Construction manufactures and markets a full line of skid steer loaders, compact track loaders, loader backhoes, tractor loaders, excavators, compact and full-sized wheel loaders, crawler dozers, motor graders and telehandlers. For more information, visit: www.construction.newholland.com.