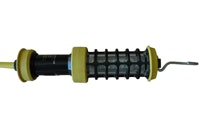 Larson Electronics' Magnalight.com has introduced a powerful LED hand lamp to its line of explosion proof approved work lights that provides the versatility of a compact hand lamp with the high output of an LED equipped bulb assembly. The EPL-FL26-LED-100 is a compact yet powerful work light that produces three times the illumination of comparable fluorescent work lights without the problems of fragile glass lamps and bulky ballasts or transformers. Equipped with 100 feet of explosion proof cord and constructed to withstand rigorous use, this lamp is ideal for close work and industrial spaces where power and durability is critical.
The EPL-FL26-LED-100 Explosion Proof Compact LED Hand Lamp provides operators in hazardous locations with a compact, powerful, and highly rugged alternative to fragile fluorescent hand lamps. Measuring only 14 inches long by 3 ½ inches in diameter, this compact LED hand lamp is constructed of non sparking aluminum and has no ballast, making it a rugged yet light weight portable work lighting solution. The housing on this unit is a non sparking aluminum design with molded bumper guards, an annealed glass tube shield, and integral lamp shock absorbers for extreme resistance to damage from impacts and abusive applications. Bright yellow colors provide easy identification and an integral aluminum mounting hook provides convenient lamp placement for hands free operation. The EPL-FL26-LED-100 LED lamp head on this light produces 400 lumens while using only 5 watts of power, giving it three times the light output of its fluorescent counterparts. Additionally, the LED design of the lamp head gives this unit's lamp assembly a life span rating of 50,000 hours, over twice that of fluorescent lamps. The light produced by this compact LED work light is 5600K in color, giving it a bright cool white appearance and making it ideal for close work and applications requiring a pure and clean source of illumination. Internal LED driver circuitry automatically senses and adjusts the incoming voltage, allowing this unit to run off a variety of voltages ranging from 120 – 277VAC. 100 feet of oil and abrasion resistant explosion proof cord provides ample length for moving about the work space and a straight blade plug allows connection to standard wall outlets. This handheld work light is Class 1, Division 1 Groups C, D approved and ideal for inspection activities, tank cleaning, close quarters work and anywhere a powerful and convenient explosion proof lighting solution that can withstand abuse is needed.
"Our new explosion proof LED trouble light is ideal for operators looking for significant light output, minimal heat output and a compact, portable light," said Rob Bresnahan with Larson Electronics' Magnalight.com. "The EPL-FL26-LED-100 illuminates an area more than 3 times the coverage of our standard 26 watt fluorescent lamp hazardous location drop light. We posted the comparison pictures on our website, and the difference is dramatic. Plus, operators don't have to worry about replacing the bulb due to breakage or end of bulb life."
Larson Electronics' Magnalight.com carries an extensive line of explosion work lights, hazardous location lights, intrinsically safe lights, LED hand lamps, and explosion proof tank lights. You can view Larson Electronics' entire Magnalight line of explosion proof lighting by visiting their website at Magnalight.com. Magnalight can be reached directly by calling 1-800-369-6671 or 1-214-616-6180 for international inquiries.