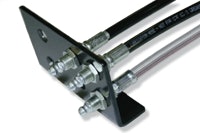 Ravenna, OH – Parker Hannifin's Lubrication Hoses from the Parflex Division is specifically designed for grease and lubrication, making it easy to properly perform quick and effective preventive maintenance on all types of equipment. These hoses are compact and eliminate gallons of unnecessary 'in-line' grease versus larger bore rubber hoses. In addition, they are a light weight and highly flexible alternative to traditional rubber hoses. When replacing rubber, Parflex HLB hose can save $10-$20 per line in reduced component and installation labor costs. Also, the unique GK Bulkhead hose fittings, with an integrated nipple, can save an additional $5-$10 per zerk connection.
Parflex HLB hose operates in temperatures from –40°F up to +212°F. For extreme temperatures (–100°F up to +450°F) Parflex 919 PTFE hose can be outfitted with the same style bulkhead grease zerk fitting as the HLB hose. The wide temperature range of PTFE hose makes it ideal for operating in extreme temperatures below -40°F and above 212°F as in cold climates or hot environments for example in applications on paving equipment where rubber hose will bake and crack.
For hand held grease gun applications, the Parflex 53GW hose is designed with steel fittings and bend restrictors to reduce the risk of grease injection injuries. This compact hose is extremely lightweight and designed to route through tight space without reducing the flow of the grease. It also has a full 4:1 design factor built into the assembly to help reduce the chance of injury.
With annual sales exceeding $12 billion in fiscal year 2011, Parker Hannifin is the world's leading diversified manufacturer of motion and control technologies and systems, providing precision-engineered solutions for a wide variety of mobile, industrial and aerospace markets. The company employs approximately 58,000 people in 47 countries around the world. Parker has increased its annual dividends paid to shareholders for 55 consecutive fiscal years, among the top five longest-running dividend-increase records in the S&P 500 index. For more information, visit the company's website at www.parker.com, or its investor information website at www.phstock.com.