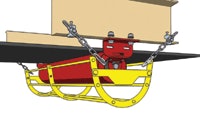 Allentown, PA – April 13, 2011: The significance of ensuring safety in the workplace has always been a priority of ASGCO and their patented line of Safety Equipment. Designed to meet OSHA & MSHA guarding requirements that prevent injuries from pinch points and contact with hazardous moving machine parts, these MSHA accepted products are vital to ensure employee safety and prevent injuries. Our Conveyor Safety equipment delivers safety, versatility as well as rock solid construction.
The Return Roll Changer supplies pinch point protection for maximizing safety and eliminates need for high-lift equipment.
Safe-Guard Belt Clamps are a patented positive tensioning system that applies even tension across the entire width of the conveyor belt.
Safe-Guard Return Idler Guard is our innovative Return Idler Guard has been awarded a U.S. patent; uniquely designed and engineered to prevent injuries from pinch points and to catch the return idler if it should fall.
V-Return Idler Guard protects workers and equipment from falling idlers. It's durable UHMW slotted cage stops material buildup and offers easy access for maintenance.
Return Idler Cage is designed to catch the return idler from falling onto unsuspecting workers or equipment, preventing injuries and down time.
Flat Return Conveyor Guard is a modular guard mounted on the conveyor to guard against moving equipment.
For more information: Contact ASGCO at 800-344-4000 or email: info@asgco.com
ABOUT ASGCO:
ASGCO Manufacturing, Inc. headquartered in Allentown, PA is a leading manufacturer of proprietary bulk conveyor components and accessories that enhance material flow performance. We manufacture and service bulk material handling conveyor equipment which improves productivity, safety and reliability for our customers. Using proven products and the latest technology to provide the most innovative solutions to conveyor material handling applications, ASGCO is focused on providing solutions for carry-back, spillage and dust control in load zone transfer points. Our products are engineered to provide the best results as well as provide ease of installation and optimize overall conveyor performance. For more information visit www.asgco.com.