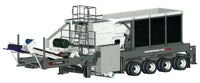 The new Terex Cedarapids CRJ3054 plant combines a robust JS3054 jaw crusher with a high stroke, 52-inch by 20-foot vibrating grizzly feeder resulting in a high-production portable crushing machine. The CRJ3054 is built tough, including a new hopper design, to handle severe primary crushing applications.
The highly mobile CRJ3054 is easy to operate and maintain and offers new levels of reliability and convenience. The jaw crusher features the latest improvements such as wedge release jaw dies and hydraulic assist jaw crusher setting. The jaw crusher isolation mount reduces plant vibration. The tail of the product conveyor lowers for operation, maximizing clearance under the jaw crusher. The conveyor discharge height adjusts to reduce material impact on the receiving conveyor. Multiple options are available, allowing customers to configure the CRJ3054 to meet specific needs. Options include a rock breaker, folding hopper wings, hydraulic jacks, hydraulic deployed switchgear, and several axle configurations.
For more information contact Terex Minerals Processing Systems at +1 319-363-3511 or go to the company's website at www.terexmps.com .
The company is located at 909 17th Street NE, Cedar Rapids, Iowa 52402.
About Terex
Terex Corporation is a diversified global manufacturer operating in four business segments: Terex Aerial Work Platforms, Terex Construction, Terex Cranes, and Terex Materials Processing. Terex manufactures a broad range of equipment for use in various industries, including the construction, infrastructure, quarrying, mining, shipping, transportation, energy, refining, and utility industries. Terex offers financial products and services to assist in the acquisition of Terex equipment through Terex Financial Services. More information on Terex can be found at https://www.terex.com/.