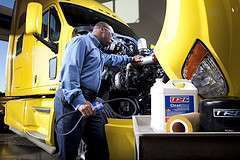 Kenworth Truck Co. achieved the highest customer satisfaction ranking among truck owners in the Heavy-Duty Dealer Service Segment, according to the J.D. Power and Associates 2011 Heavy Duty Truck Customer Satisfaction Study.
"Kenworth is honored to receive the prestigious Heavy Duty Dealer Service Award from J.D. Power and Associates," said Gary Moore, Kenworth general manager. "Kenworth employees and dealers are dedicated and committed to provide the highest quality service and The World's Best trucks to customers."
The annual study ranks customer satisfaction by evaluating manufacturer performance. This year's study results are based on interviews with primary maintainers of one-year-old (model-year) Class 8 trucks. Kenworth was well-ranked in the study's key service categories, which include Dealer Facility, Service Quality, Service Delivery, Service Initiation, and Service Advisor.
The award marks the second time in three years, and fourth time overall (2005, 2006, 2009 and 2011), that Kenworth has received the Dealer Service award since the heavy duty awards were introduced in 2003. Overall, Kenworth has now received 17 J.D. Power and Associates Heavy Duty customer satisfaction awards. Kenworth is also the current recipient of the 2010 J.D. Power and Associates award for "Highest in Customer Satisfaction for Medium Duty Truck Dealer Service."