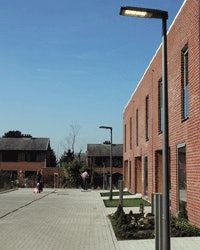 Elk Grove Village, IL—Combining engineering excellence with innovative LED technology that results in energy efficiency and precise lighting control, Schréder Lighting US General Manager John Camp has announced the introduction of PIANO, a new family of outdoor architectural luminaires. From refined, artistic architectural lighting to durable luminaires that withstand the harshest elements of tunnel, DOT, and transit environments, Schréder Lighting is the epitome of quality and distinction.
PIANO guarantees maintenance-free, high-performance outdoor LED lighting for many years, compared to others in the marketplace. Some performance highlights include:
• ThermiX® thermal management for optimum lighting performance.
• Electronic power supply is more than 90 percent efficient, with surge protection.
• 80 percent of the lumen output is maintained for a minimum of 60,000 hours.
The die cast aluminum housing is designed to optimize the cooling of the LEDs (light emitting diodes) and electronic ballast. LEDSafe® completely seals the optical compartment to an IP66-rating level, similar to the Schréder Sealsafe® system.
Flat extra clear glass helps optimize light output. The housing incorporates the ThermiX® thermal management system, which maintains 80 percent of the initial luminous flux for a minimum of 60,000 hours, features an exterior surface design and direct thermal coupling of LEDs, to maximize the luminaire's thermal exchange properties. The electronic gear is contained in a thermally isolated compartment to extend component life.
PIANO luminaires are equipped with the LensoFlex® photometric engine for a wide range of photometric distributions from a single LED module.
Deploying full cutoff optics, PIANO 1 offers type 2 distribution, using 56 LEDs while PIANO 2 offers distribution types 2, 3, 4 and 5 using 112 LEDs. The series delivers up to an 84 IM/W performance. L80=60,000h @350mA Ta 35 C.
Schréder luminaires, poles and brackets feature a polyester powder coat paint finish (4 mils/100 microns) unless a custom finish is specified. The finish's chemical composition provides a highly durable UV and salt spray resistant finish in accordance to the ASTM B117 standard and is humidity proof in accordance to the ASTM D2247 standard.
Schréder offers five standard colors: Textured Black; Textured Gray; Textured White; Textured Bronze; and Smooth Aluminum. Other RAL colors are available upon request.
A variety of poles are available including straight round poles, tapered round poles and bottleneck poles are crafted of either aluminum or steel.
PIANO 1 luminaire (without the pole) has a height of 3.4 inches, a length of 26.8 and width of 10.9 inches while PIANO 2 has a height of 3.6 inches, a length of 39.1 and a width of 11.7 inches.
The high efficient SELV Power Supply (350mA) offers 90 percent efficiency and is mounted on a removable tray. Schréder also offers a wireless remote management system that helps monitor street lighting while reducing energy use and costs.
About Schréder Lighting US
Located in Elk Grove Village, Illinois, Schréder Lighting US is a respected member of the Schréder Group G.I.E. and operates a state-of-the-art manufacturing plant in Addison, Illinois.
Schréder Group G.I.E. was founded in Belgium in 1907, and has become an international organization with over 2,600 employees, in more than 40 facilities, in 30 countries and on 5 continents. Schréder Group G.I.E specializes in upscale, architectural and high performing outdoor lighting that is at the forefront of technological and aesthetic innovation. The members and affiliated companies of the Schréder Group share facilities and powerful, state-of-the-art tools for R&D, manufacturing, high-level photometric studies, and laboratory testing. Findings are shared within the group for the purpose of providing best options for the "the right light" worldwide.
The "Right Lighting" mantra pertains to the enabling of design performance criteria that best incorporates economical, ecological, and energy efficient fundamentals.