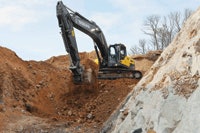 With fuel efficiency improvement of up to 13 percent – combined with digging power, ease of use and servicing – the EC250D and EC300D from Volvo Construction Equipment are specifically designed for tough jobs.
The new EC250D and EC300D excavators from Volvo Construction Equipment are heavy duty machines that weigh 54,230 to 61,730 pounds (24.6 to 28 tonnes) and 66,140 to 73,630 pounds (30 to 33 tonnes) respectively. Meeting the requirements of the strictest emissions legislation, these powerful and reliable machines excel in heavy digging and lifting duties, offering superior cycle times and greater fuel efficiency. In fact, these machines offer improvements in fuel efficiency over the models they replace by between 9 to 13 percent.
Both machines are fitted with Tier 4i certified Volvo D8H engines, delivering lower emissions and high fuel efficiency. These engines feature a waste-gate turbo, externally cooled exhaust gas re-circulation (EGR) and a combination of diesel oxygen catalyst (DOC) and diesel particulate filters (DPF) with partial fuel burner and active regeneration. Maximum power is 202 hp for the EC250D and 227 hp for the EC300D — a 10 percent increase in overall power with up to 13 percent higher fuel efficiency.
From mass excavation and loading to utility and construction, these machines have the versatility and ability to cope with a wide range of tasks. Fitted with Contronics, the advanced mode selection system, operators can choose from five working modes that best suit the job in hand. This not only tailors the performance to the application, it also optimizes the use of fuel. Modes include Idle, Fine, General, and Heavy. Performance can be further matched to the task by an attachment management system, which stores up to 18 different attachment presets. This allows hydraulic flow and pressure adjustments to be accurately set, according to the needs of the tool being used, at just the touch of a button.
Excavator features
Hydraulics. The hydraulics system features two variable displacement axial piston pumps. Independent and simultaneous movements of the digging equipment are controlled by an automatic sensing work mode. When only a single function is being used, the hydraulics system combines the flow of both pumps for quick cycle times and greater productivity. Swing speeds have increased 3 to 5 percent with 6 to 7 percent increases in swing torque over the C-series. It can also prioritize flow according to the work being done – e.g. to the boom for faster raising when loading or in deep excavations; to the arm during leveling or swing during large slewing angles.
The boom float frees up hydraulic flow by lowering using gravity only, and a Boom-Down/Arm-In/Bucket-In regeneration system diverts oil from the cylinder piston side to the cylinder rod side – resulting in faster, more efficient digging. Thanks to the optimized hydraulic piping and by introducing a new ECO mode, any losses in the hydraulic system is minimized, thanks to a smart electro-hydraulic control, allowing customers to get better fuel efficiency without any loss of performance in most operating conditions.
Operator environment. Fitted with the latest generation Care Cab, these machines offer operators excellent visibility, ideally placed controls and monitors – and a quieter, safer and more comfortably spacious place to spend their days. Operators are also in for less of a shock with these new machines – thanks to the cab being ROPS protected and mounted on dampened cab mounts that iron out vibrations.
Undercarriage. The undercarriage is made from thick gauge, high strength tensile steel, the sprocket and top rollers are made from forged steel and deep hardened for long term durability. Bottom rollers feature extreme pressure (EP) oil, reducing the oil temperature and ensuring consistent viscosity, even under heavy loads. Durable three-stage planetary gearboxes and automatic two-speed track motors are used, while improved performance over difficult or steep terrain is evident due to increased tractive force.
Boom and arm. Durable and heavily reinforced to withstand working with high impact materials, such as blasted rock, the boom arm is made from high tensile steel and robotically welded for severe use durability. Wear strips welded to the arm also give added protection, while the linkage yoke features a support bar for additional strength.
Maintenance. Both the EC250D and EC300D feature easy maintenance. Grouped, ground level filters and service points are simpler and safer to access via wide opening compartment doors. Checks are done quicker, further improving uptime, while a reversible cooling fan is operated from the cab, helping to prevent radiators clogging and overheating problems developing. A service mode on the color monitor in the cab allows technicians to easily perform diagnostic checks. (The monitor can also display the view from the rear facing camera.)
Support. These machines come fitted as standard with CareTrack, the Volvo Construction Equipment telematics system. Accessed remotely, CareTrack provides machine information such as fuel consumption and service reminders that allow improved planning and operation. A comprehensive range of service plans are also available from the Volvo dedicated dealer network, ranging from routine wear inspections to full service agreements.