Recent survey suggests 'hunkering down' may be the best planning strategy for a while
By John Latta
Knowing exactly where you are is the key to getting to where you want to be. And a new survey of its contractor members for the quarter ending March 31 by the American Road and Transportation Builders Association (ARTBA) makes it hard to ignore the fact that the industry is not in a good place.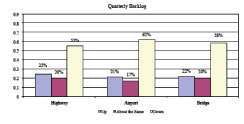 Nearly half of ARTBA's respondents are working below 75 percent of capacity. The net rising indices for construction work performed, employment, backlogs and capital spending indicate many contractors are struggling in the current economy and the overall market is still contracting, according to ARTBA.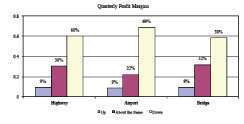 There are more contractors reporting they are doing less work on transportation construction projects than for the first quarter of last year.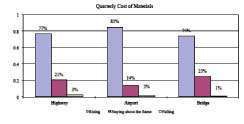 "Some participants reported that the highway and bridge construction market is the worst they've experienced in their lifetimes. Likewise, expectations for the remainder of 2011 are poor," says the report. But there were some indications of a "marginal improvement" in some areas.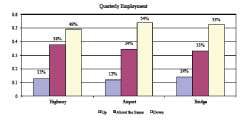 Whether that is a trend or not, says ARTBA, will be determined by market activity over the next six months and progress on a federal surface transportation bill in that same time frame.
Some contractors tell ARTBA they face a lack of work to bid on. Some report that competition is not as stiff as last year, but this news is offset by respondent reports that projects are still priced extremely low and margins are non-existent. ARTBA highlights this response from one contractor: "If I don't pick up some contracts soon, I will have to shut down operations."