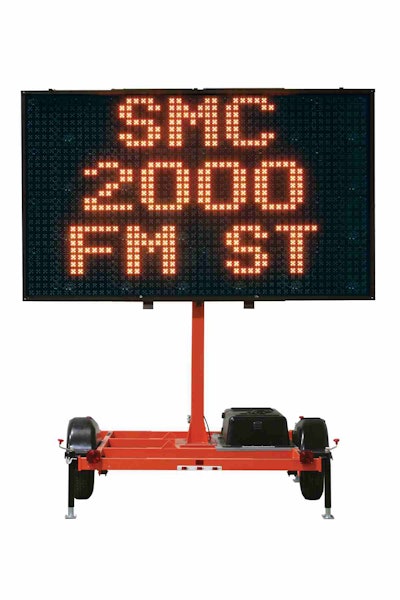 The SMC 2000 FM-ST Solar Message Center Precision Solar Controls full-matrix variable message display from Work Area Protection Corp. displays text and graphic messages on a 76-inch by 139-inch panel and features an on-board dedicated user-friendly NTCIP-compliant controller that provides easy programming with secure password protection.
The message center uses five, high-intensity, solid-state LEDs per 2-inch pixel to create more uniform light output for increased message definition and distance legibility of up to 1,000 feet.
Automatic intensity control provides optimum LED intensity. The message center is powered by a battery bank, which is continually recharged by a solar array, designed to provide 21 days of continuous operation without sunlight, and the solar panel array is designed to recover one day's power requirement in 2-1/2 hours.