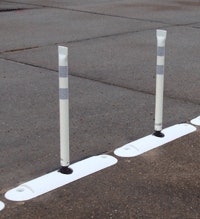 In March 2010, Impact Recovery Systems began development of a curbing system that would offer superior durability, visibility, convenience and cost effectiveness in a light weight, low profile design. The resulting product was Tuff Curb® XLP.
Superior Strength
Tuff Curb XLP is a low profile high performance curbing system designed to withstand damaging high speed, high impact applications. XLP is made from solid colored, UV resistant, High Density Polyethylene, and is designed to withstand 20,000lbs of static pressure- double the federal single axle vehicle maximum for a single wheel. To further ensure XLP's durability, advanced computer Finite Element Analysis was also performed on the design.
Increased Visibility
The combination of Tuff Curb XLP's bright solid coloring and unique glass-element technology reflectors supply maximum visibility both day and night. Unlike traditional reflectors that only offer reflection from a straight-on light source, XLP's reflectors far surpass the mandated 20° reflectivity required by the ASTM D4280 standard by offering reflection over 45° each direction. These reflectors are also highly resistant to breaking, scratching, chemicals and loss of reflectivity.
Innovative Features
TuffCurb XLP's single piece design provides superior strength and fewer pieces to contend with, therefore decreasing installation time and cost. Each curbing section measures 40"L x 8"W x 2"H, weighs a mere 6.5 lbs. and is fully compatible with Impact Recovery Systems' line of posts and panels. The single piece design also is beneficial for natural water drainage. XLP does not have scuppers that can clog with dirt and debris that result in increased maintenance costs. Simply install each curbing section 2-3" apart to allow for unimpeded water flow. XLP was also designed with the understanding that each installation is unique; therefore, XLP can be used along curved and tangent sections and can be installed via epoxy or anchors, further expanding its application possibilities. Tuff Curb XLP's many innovative features and benefits are perfect for applications such as: HOV lanes, city streets, turn restrictions, bridges, tunnels and parking structures, as well as many others.
About Impact Systems®, Inc. manufactures flexible, high impact traffic devices for road and pedestrian safety. Available for both temporary and permanent usage, applications include highways, work zones, train platforms, parking lots and pedestrian areas. MUTCD compliant and NCHRP-350 approved.