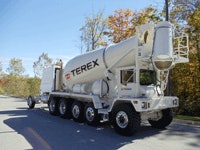 Terex Roadbuilding introduces the market's first front discharge mixer truck line powered by EPA 2010-compliant diesel engines. The mixer line consists of three-, four-, five-, six- and seven-axle designs in both standard and bridge formula configurations. Currently, ready-mix producers can choose between 350-, 380- and 425-hp ratings of the Cummins ISX11.9 diesel engine for the 2010 EPA-compliant mixers. Terex will soon offer an MTU/Detroit Diesel DD13 2010 EPA engine option with power ratings of 350-, 380- and 450-hp.
The new trucks offer improved performance and increased fuel economy over 2007 EPA-compliant models. The emissions solution for Terex® front-discharge mixer trucks relies on Selective Catalytic Reduction (SCR) technology to treat post-diesel particulate filter (DPF) exhaust. A 5-gallon tank positioned at the rear of each Terex® mixer model stores the system's diesel exhaust fluid (DEF). Depending on the truck's workload, DEF usage averages 2 to 3 percent of diesel fuel consumption.
All new front discharge mixers feature an electronic control module located on the engine that automatically senses whether or not the truck is carrying a load of concrete. This drives the new load-based shift scheduling found exclusively on Terex® front-discharge mixers. By stretching the shift patterns based on truck load, these trucks offer better performance or mileage.
Terex engineers tucked away the more sensitive electronics on 2010 EPA trucks – including the hose heat fuse, hydraulic tag fuse, engine power, SCR power, air dryer fuse and DEF hose heat relay – in their own sealed compartment. This enhances system longevity and offers easier access to the electronics for diagnostics and servicing.
While redesigning the compartment to accommodate the new engine installation, engineers reworked the after-treatment "muffler rack" and engine mounting designs mixers. The after-treatment system – DPF, SCR and decomposition chamber – is now secured to the truck frame rather than mounted directly to the engine. This virtually eliminates vibration transfer from the engine for longer service life.
A new combo engine/transmission arrangement eliminates a previous rear transmission mount, reducing the number of parts to maintain. Both the engine and transmission can be removed independently of each other, simplifying servicing.
Inside the cab, the instrument panel includes a separate fuel-type gauge for the DEF tank and a multi-stage visual and audio DEF level warning system. Upon shutting down the truck, the DEF system features a 60-second reversing cycle to purge the lines of fluid.
Terex Roadbuilding will exhibit the six-axle Terex® FDB6000 front discharge bridge formula mixer at World of Concrete in Las Vegas, Nevada. The truck is powered by the 425-hp, 1,550-ft-lb torque Cummins ISX11.9 EPA 2010 engine. The Terex exhibit at World of Concrete is located in the Central Hall, booth #C5836.
About Terex Roadbuilding
Part of Terex Corporation (NYSE: TEX), Terex Roadbuilding is a diversified manufacturer of equipment for use in the construction, infrastructure and road-building industries. The equipment offering encompasses over 75 products, including landfill compactors, automatic roller, bridge and canal pavers, under-bridge aerial access platforms, mixer trucks, slipform pavers, curb and barrier machines, ready mix plants, asphalt pavers, material transfer devices and vehicles, asphalt plants and equipment, warm mix asphalt systems, reclaimer/stabilizers and milling machines. More company information can be found at www.terexrb.com.
About Terex
Terex Corporation is a diversified global manufacturer operating in four business segments: Aerial Work Platforms, Construction, Cranes, and Materials Processing. Terex manufactures a broad range of equipment for use in various industries, including the construction, infrastructure, quarrying, mining, shipping, transportation, refining, energy and utility industries. Terex offers a complete line of financial products and services to assist in the acquisition of Terex equipment through Terex Financial Services. More information on Terex can be found at www.terex.com.