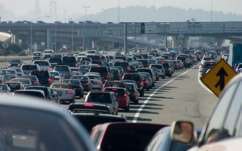 Don't commute alone. Even if you are the only person your vehicle.
A new report from the New Cities Foundation says that real-time sharing of information between commuters via social networking can "enhance the overall commute experience in a number of different and interesting ways." That has to be cool, right?
How?
Well, there's the fact that crowd-sourced commuter information sharing can be a useful gauge of commuter sentiment for transportation agencies with regards to specific routes or accidents. It could help the smart phone people make even better apps for frustrated commuters. And then, says the report, "connected commuting is particularly useful for car commuters. Receiving real-time information from others saved time, and sharing information gave a feeling of satisfaction." Both added to the enjoyment of the commute, says the report.
The Foundation report is the work of its Connected Commuting Task Force, charged with helping cities all over the world better understand how real-time social networking among commuters can enhance the overall commuting experience and improve traffic management. The study was conducted in the city of San Jose, California, in partnership with Ericsson, the City of San Jose's Department of Transportation and the University of California's Mobile Millennium team from the Center for Information Technology Research in the Interest of Society (CITRIS)