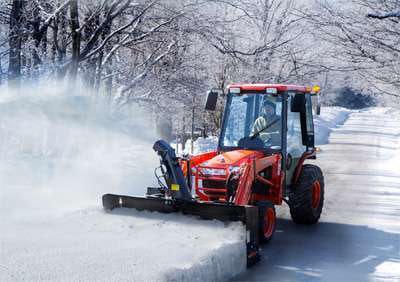 Sheyenne Tooling and Manufacturing has introduced its new 600CT snowblower for compact tractors. It features the industry's first concentric-axis design, meaning the impeller and auger rotate on the same shaft to improve performance and reduce maintenance concerns. Additionally, the standard quick-attach, front-mount design of the blower allows full articulation of the loader's arms during operation.
The 600CT has a 74-inch cutting width and a 28-inch cutting height for managing tall drifts and snow piles. The 18-inch, four-blade impeller rotates the same direction as the auger to effectively direct snow into the discharge chute.
To power the unit, the 600CT comes with a hydraulic pump, which installs on the tractor's mid-mount PTO shaft and uses oil from the loader circuit of the tractor. The blower also comes with a solenoid valve for electric-over-hydraulic control of the discharge chute and deflector. Once the system is installed, an operator can remove the 600CT and switch back to the loader bucket in just a few minutes. Also available is a rear-mounted pump option, which requires the user to purchase an additional step-up gearbox to rear-mount the PTO pump.
Other standard features include heavy-duty flighting and fully adjustable skid plates.
Founded in 1977, Sheyenne Tooling and Manufacturing is a family-owned manufacturer of farm equipment, snow removal and skid steer attachments for agricultural and construction applications. The company also manufactures a line of semi trailers for the agricultural industry. For more information on Sheyenne's complete product line, contact Sheyenne Tooling and Manufacturing, 701 Lenham Ave. SW, Cooperstown, ND 58425, call 800-797-1883 or 701-797-2700, email sales@sheyennemfg.com, or visit www.sheyennemfg.com.