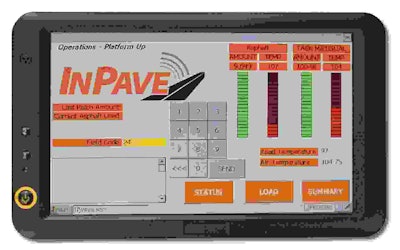 At the American Public Works Association (APWA) 2012 Show in Anaheim, Calif., Bergkamp Inc. rolled out its InPaveSystem as an option on its Flameless Pothole Patcher to help government agencies and contractors better monitor and manage pothole patching performance. (For a video of the InPave System, click here.)
Multiple data reporting sensors are strategically placed throughout the patcher that monitor production, performance and locations of the pothole patcher and crew.
As potholes are repaired, the data is automatically gathered by the InPave System and transmitted back to the office. Data includes quantity of potholes repaired; location, time and material used for each repair; and material levels and temperatures.
Retrieved from any computer with reliable internet access, the data can then be turned into easy-to-read reports that assist managers and owners in evaluating current and historic production to verify patching performance and material usage, troubleshoot pothole problems and help reduce inefficiencies, according to Bergkamp.
By analyzing this data, agencies and contractors can also modify their pavement management plans to maximize road quality and budget use. There is no software to download, and the InPave System data can be downloaded into multiple file types for uploading into pavement management systems.
A mobile data terminal allows the operator to quickly enter the quantity of material loaded when
filling at the asphalt plant for recording purposes. Otherwise, the InPave System does not change.
Managers and owners can choose the reporting level of detail. Standard reports that show patch location, amount of material used or the type of material used can be quickly accessed for daily evaluation. Custom reports can also be created for overall or single-event needs. All reports are gathered via three application systems that automatically work together:
InPave Navigo Explorer – Monitors and maps patcher location within the last 24 hours and allows you to click on a unit(s) to see status and details.
InPave Navigo Reports – Provides historical data and reporting based on standard information captured by each patcher, so you can develop detailed reports by selecting specific parameters and timeframes.
InPave Manager – Allows for highly customizable patcher, crew and job reporting based on the information you input and can include repair, machine, material, crew and other summaries and reports.
The InPave System is available for new and current Bergkamp Flameless Pothole Patchers. In addition to the InPave System, Bergkamp offers other options for its Flameless Pothole Patcher, including the following: the Swing Auger System, the Sand Spreader, a secondary auger motor, LED lights, upgraded arrow boards, a single-drum vibratory roller, traffic cone and shovel holders, asphalt lutes, a propane hand torch, a front cleaning fluid hand sprayer and various sizes of pavement breaking hammers and attachments.