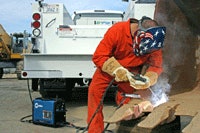 APPLETON, Wis. — Miller Electric Mfg. Co. introduces EnPak® Mechanic Series. EnPak's 27-HP Kubota diesel engine eliminates the need for a PTO and integrates seamlessly into its electrical and fuel systems, allowing mechanics to run all their tools with the truck turned off. This lowers fuel costs up to 30 percent, reduces truck engine hours up to 60 percent, lowers truck noise by as much as 10 dB and substantially reduces exhaust fumes in the work area.
EnPak's variable speed rotary screw air compressor, Miller's Air Pak™ 40, offers a rated 40 CFM at 100 PSI with a 175 PSI maximum that allows mechanics to use air tools without having to stop working to wait for pressure to build. Its Eaton variable displacement piston hydraulic pump powers a rated 3000 PSI at 8.5 GPM (up to 20 GPM maximum) and offers smooth, fast and accurate crane operation. And 6,000 watts of generator power at 100 percent duty cycle plus an additional 2,400 watts of pure sine wave EnVerter™ power at idle is available to run electrical tools including welders, lights and laptops used for equipment diagnostics.
Links
EnPak Web Site (includes link to product video)
EnPak Product Page (technical details, literature, fuel savings calculator)
Customer Quotes
"The best feature of the EnPak is that my truck no longer has to idle on the jobsite to allow me to run my tools. With the EnPak running on its own, I have less fuel usage and less hours being put on my truck. I also like that the air compressor gives me air on demand. I can run my big, heavy air guns and not have to wait for air to build up like the old system. It's very productive."
—Carlos Pineda, heavy equipment service technician, Peterson Tractor Company (CAT)
"The EnPak lets me use both air and hydraulics at the same time without slowing down. Sometimes I need to use my crane to support a piece while I'm using my impact gun to remove fasteners and that all comes into play when you are disassembling a large machine."
—Carlos Pineda, heavy equipment service technician, Peterson Tractor Company (CAT)
Miller Product Manager Quotes
"EnPak allows mechanics to work more efficiently while reducing many of the high-cost elements of a mechanic's truck: fuel use and engine wear. Eliminating the PTO and integrating EnPak directly into the truck's electrical and fuel systems reduces fuel use by as much as 30 percent and truck engine hours by as much as 60 percent. The reduced sound levels and exhaust also create a more operator-friendly environment for the mechanic who spends all day working behind the truck."
—Rick Beeson, director of business development, Power Products Group, Miller Electric Mfg. Co.
"We saw an industry demand for an all-in-one air compressor, hydraulic pump and generator that could be run with the truck turned off—that's what EnPak provides. Fleet managers appreciate its cost savings and mechanics like that it allows them to work without worrying about the output from the truck's engine and PTO. The fact that it is a self-contained, purpose-built machine with components from Miller, Kubota and Eaton makes it a reliable and cost saving alternative to PTO systems."
—Rick Beeson, director of business development, Power Products Group, Miller Electric Mfg. Co.
Additional News Release Information
Smart Power
EnPak features the exclusive EnPower™ Technology: real time load monitoring that automatically matches engine speed to the load requirement put on the machine. This offers additional fuel savings as RPMs only ramp up to levels needed to perform the task and then fall back down to idle when finished.
Mechanics can also run tools simultaneously—such as using the crane and air compressor at the same time—without noticing any drop in performance. One mechanic can weld on one side of the truck while another grinds or uses an impact wrench on the other side without any lag in power.
EnPak offers up to 6,000 watts of single-phase generator power to run welders, grinders, lights and other large tools through its 120/240-volt receptacles at the back of the truck. For welding, it can run a Maxstar® 150 Stick/TIG welder (up to 1/8-in. stick rod), Maxstar 200 Stick/TIG welder (up to 3/16-in. Stick rod or carbon electrodes) or a Millermatic® Passport Plus for welding with MIG/flux cored wires from .024- to .035-in. And EnPak's EnVerter power offers 2,400 watts of pure sine wave 120-volt power at all engine speeds regardless of the overall load placed on EnPak to run everything from laptops to lights and microwaves.
Integrated Design
EnPak's 27 HP Kubota diesel engine shares the truck's fuel supply; this means mechanics only have one tank to fill. It also uses the truck's 12-volt battery, eliminating the need for a second battery. EnPak even provides 12 volts of power and a 60-amp charge to the battery to ensure peak battery performance and extended battery life.
Its integrated control design allows the mechanic to use the crane remote they are already familiar with—there is no need to retrain the operator. EnPak's remote panel is mounted at the rear of the truck and monitors, operates and provides diagnostics for engine and air compressor functions such as fuel use and engine RPM. The mechanic can control all machine functions from one central location at the back of the truck.
EnPak also maximizes truck bed space by housing the generator, air compressor and hydraulic pump in one self contained unit instead of having multiple machines for each capability. It can be mounted as a sidepack or in the load space and is only an inch taller and wider than Miller's Bobcat series of engine-driven welding generators. It doesn't require a cut-out in one of the truck's storage compartments for front panel access, as EnPak can be operated completely by remote. And all service components are easily accessible through hatches at the front and top of the machine.
Another design efficiency is EnPak's vertical exhaust, which improves the operator environment by diverting exhaust up and away from the work area and eliminates the cost of adding a vertical exhaust to the truck.