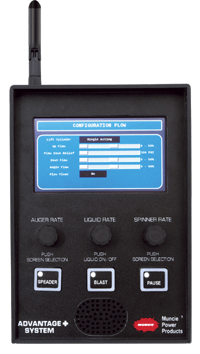 What if there was a way for the factory to always be available at your shop to help make adjustments or perform diagnostics with a full array of instruments?
Muncie Power engineers have made it possible by combining innovative technology and decades of mobile power experience through our Advantage + System. This technology has revolutionized the way we support our customers with its built-in Real-Time Support Link allowing you to remotely connect you're Advantage + System to Muncie engineers.. It is the future of all factory support….made available today.
The Advantage + System has many exciting features:
Flow sharing design for simultaneous equipment operation even at low pump flows
Touch-screen display. High contrast, high resolution, multi-color
Useable with gear or piston pumps
Built-in Pre-wet and Anti-Icing controls
Menu adjusted pressure controls and digital pressure displays
Operational data-logging and diagnostic data-logging
Built-in GPS
Built-in WiFi
Built-in interface and displays for Road/Air temperature sensors
No wire harnesses between the cab controls and the valves
Muncie's Advantage + System is designed for unmatched performance, unmatched support and unmatched value. We have your solution.