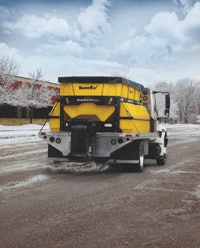 MADISON HEIGHTS, Mich. – SnowEx has introduced its highest-capacity line of spreaders, the SuperMaxx series. Intended for large contractors and municipalities, the spreaders are loaded with many new features for enhanced performance and easy pre-wetting integration.
The SuperMaxx series includes the 9300X, 9500X and 9800X, available with 3.3-, 4.3- and 6.0-cubic-yard capacities, respectively. The spreaders feature a unique cab-forward design with up to 33 percent better payload distribution, resulting in improved safety and reduced stress on the carrying vehicle.
Exclusive to the SuperMaxx series, the spreaders include a patented wet/dry mixing chamber. Within the chamber, the auger feed system mixes brine with the spreading material before delivering it to the spinner. This feature maximizes the effectiveness of pre-wetting applications by ensuring a precise, even coating of brine.
The hoppers are made from corrosion-resistant polyethylene and include a multi-angle design to promote a continuous flow of material to the auger feed system. Furthermore, an inverted "V" baffle and attached vibrator reduce clumping and allow the units to spread all bulk materials, including 100-percent salt, 100-percent sand and any combination in between.
The spreaders are completely electric-powered with a 12-volt, ¾-horsepower auger motor and 1.6-horsepower spinner motor. To ensure durability and ease of maintenance, the motors and transmission are sealed within weather-resistant enclosures. The control panel is also protected in a weather-resistant enclosure with a clear inspection cover.
The SuperMaxx series is controlled by an innovative pendant-style controller with a digital readout and dials for independently adjusting the variable-speed spinner and auger. It comes with blast and pulse features, as well as auto-reverse and overload protection. If the truck is equipped with a pre-wetting system, the controller can toggle it on and off, automatically adjusting the pre-wetting system's flow according to the spreader's material feed rate.
Furthermore, a new low-profile spinner design with stainless-steel deflector helps the SuperMaxx series accurately spread material up to 40 feet wide. Additionally, the 12-inch stainless-steel spinner contains adjustable cups, allowing the operator to fine-tune the spread pattern. When not in use, the modular spinner assembly can be flipped into the upright position, providing full access to the vehicle's hitch.
Other standard features include a fitted tarp, top screen, LED safety strobe lights, noncombustible wiring and vertically oriented ratchet straps. The spreaders are covered by an industry-leading two-year parts and labor warranty.
SnowEx is a product division of TrynEx International. Other TrynEx brands include TurfEx turf care equipment, and SweepEx broom attachments. For more information, contact TrynEx International, 531 Ajax Drive, Madison Heights, MI 48071, call 800-725-8377 or 248-586-3500, fax 248-586-3501, e-mail info@trynexfactory.com or visit www.trynexfactory.com.